This is seemingly an easy group to discuss with the usual suspects returning and some familiar training camp faces fighting for a spot. But there are a few moving parts that merit a deeper look into the wide receiver position.
Of course there's Greg Jennings, Jordy Nelson and Randall Cobb who are entrenched and the 1-3 guys, barring injury. Donald "Quickie" Driver returns after his big summertime win on ABC Network's "Dancing with the Stars". With questions swirling as to whether the team would have room on its roster for the 37 year old Driver, he appeared to be in phenomenal shape and showed agility comparable to a 25 year old. That aside, his presence on the team and in the locker room is invaluable. He restructured his contract in order to be more cap friendly and allow the team to keep existing talent and add new. He doesn't have the speed that he once did but he continues to find ways to get open and make incredible catches, many for TD's. A quick reminder is the acrobatic catch he made for a TD against the Giants last season where he caught an Aaron Rodgers zinger and managed to keep both feet in bounds as he was falling forward out of bounds. Driver is a lock on this year's team and returns for his 14th NFL season.
James Jones is back and unless someone offers the Pack incredible value for him, will not be traded and will be on the roster. He didn't have as many opportunities in 2011 as he had in the past but he hauled in what was thrown his way and appeared to have worked on the case of the 'dropsies' that had plagued him throughout his career. The reason for trade rumors is a combination of Jones entering his 6th season and seemingly haven maxed out on his output along with the number of talented youngsters ready for an NFL roster spot. In order to get value for him, the Pack would have to move him now before his stock starts to plummet. GM Ted Thompson is not hasty, by any means and will not likely move Jones unless another team really wants him and is willing to part with an early to mid round draft pick (3-5).
UDFA's Tori Gurley, Diondre Borel, Antoine "Shaky" Smithson and Curenski Gilleylen are vying for an unusual 6th WR spot on this year's team. It's rare to see teams keep that many wideouts but in such a prolific passing offense, WR's are a very hot commodity. Gurley and Borel were on last year's practice squad and performed well throughout the season. Gurley was said to be hauling in passes left and right as well as having blocked several punts during weekly practices. While it's been reported that Borel is a step ahead of him in training camp so far, Gurley is my pick to stick on the active roster with Borel a sure lock for another year on practice squad. The team will likely have to contend with teams vying for his services throughout the year much like they did Gurley's last year. Gilleylen is a nice underdog story and offers fans a challenge in learning to spell and pronounce his name, but don't expect him to make the team nor be on the practice squad. Smithson missed all of last year after a shoulder injury landed him on IR before the season began. His best chance at cracking the roster would be as a return man, but that job seems securely in the hands of Randall Cobb. If he is eligible for the practice squad, expect to see him land there once final cut downs are announced.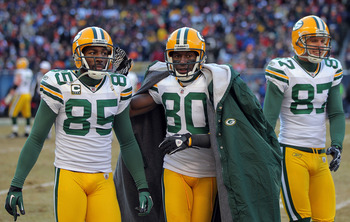 As for the incumbent starters, what more can be said besides that they are an outstanding and dynamic group of guys. Greg Jennings is still a deep threat and runs a great route. His experience has allowed him to get open and find holes in the defense. He tends to struggle a bit when defenses focus on him and the hope is that with Nelson and Cobb, the opposition will be in a "pick your poison" mode all year. Nelson emerged as the clear #2 WR on the team last year and a top player in the league. His speed coupled with his size allowed him to become a force in the red zone. On more than one occasion, he shed a would-be tackler before rumbling into the end zone for a TD in short yardage. He has even continued to contribute on special teams with his size and speed such an asset. I expect the #1 WR role to swap between Jennings and Nelson this season as one capitalizes on the defense's focus on the other. Cobb has become a big story in camp this year and has been seen with the ball in his hands in several scenarios. Besides his usual WR and kick return reps, Cobb has been seen at RB, QB (remember he played some QB in college) in a "wildcat" formation and has even emerged as a backup holder on FG attempts. The idea is to get him on the field at every turn in order to utilize his play-making abilities.
This group promises to be some of the best this team has ever seen. There's no reason to think, despite that defenses know the Pack are going to air it out, that this group won't put up some lofty numbers in 2012. Health is always a factor, but assuming everyone remains available, much of the Pack's success on offense this year will rest right here with these fine young (and young at heart) men.
Until next time, Beers, Brats, and Championships.
- Jason Perone (@WSB_Jason)
Follow us on Twitter for up to date news on Brewers, Packers, Badgers, Bucks and more. Live in game commentary, breaking news, previews, and post game discussion. @WISportsBlog @WSB_Andrew @WSB_Nick @WSB_Brandon @WSB_Mike @WSB_Harrison @WSB_Jason. Finally, find us on Instagram! (wisportsblog)