That's right, realistic! You won't find any Josh Hamiltons, Zack Greinkes, or Dan Harens in here, people. This is all dedicated to the real side of what the Brewers can look at with the money they have available to use. Going into this offseason, it is well known the Brewers look to revive the bullpen they once had, as well as inject a new starting arm into the rotation. Finally, though our offense is set quite well, they will need to look at establishing a decent bench to back up our "don't fix what isn't broken" lineup. With the Winter Meeting approaching, the rumor mill is going to heat up and the Brewers will be a team in the center of it.
1. RHP Kyle Lohse
Kyle Lohse is coming off arguably his best season of his major league career. He set career highs in almost all categories, ranging from innings pitched, wins, strike outs, earned run average, and batting average against. Lohse was able to make up for not having Chris Carpenter in the Cardinals rotation all of last year, which led to the success of St. Louis. Lohse finished 2012 with a record of 16-3 (8-1 at home), with a 2.86 ERA and 143 strike outs.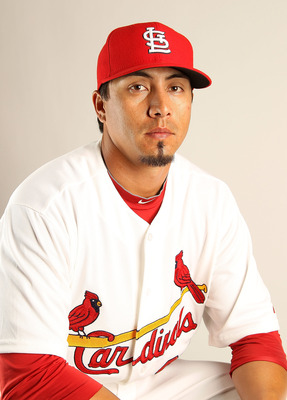 A few key stats to look at for Lohse's 2012 season are as follows. He only surrendered 39 walks (38 BB, 1 IBB) to the 864 batters he faced last year, which calculates out to be about 1.5 walks per 9 innings. Comparing to current Brewers pitcher Yovani Gallardo, who gave up 84 walks (81 BB, 3 IBB) to the 860 batters he faced, the difference is quite large. Lohse gave up 0.8 HR/9IP in 2012 (19 total homeruns given up), which is also important considering the playing field of pitching at Miller Park where our stadium surrenders quite a few every year. Lohse has pitched 7 years in the National League, and 6 years in the American League. Besides a few minor, uncontrollable stats here and there, Lohse's stats as a National League pitcher are extremely better top to bottom.
Although his stats while pitching at home were fantastic in 2012, Lohse has a few setbacks. One being his age. Lohse turned 34 last month. Though its not considered "old", it's definitely a fragile age to be as a pitcher in the MLB. However, with the system Milwaukee has for it's starting pitchers, I am not concerned in the least about the handling he would receive from our pitching coaches. Also, Lohse hasn't really put up great numbers when pitching in Miller Park. He did not face Milwaukee in 2012 at The Keg, however in his career he holds a 2-3 record with a 6.95 ERA at Miller Park. Overall, Lohse does not pitch well indoors whatsoever. Lohse has started exactly 100 games indoors, and has only walked away with 32 victories (28 losses, 40 no decision).
Minus the few things mentioned in the previous paragraph, I think for what Milwaukee is looking for, Lohse is a perfect candidate for the Brewers' rotation. The big thing will be money, like everything in free agency. Lohse finished 7th in Cy Young voting, and with the year he had last year he won't be cheap, but he also won't be making Sabathia money. Definitely affordable for sure. I think the Brewers could go 3 years, 42MM and it would be a done deal. Let's just hope it won't haunt us in the end like another FA Cardinals pitcher we signed after a great previous season. (See: Jeff Suppan)
2. RHP Brandon McCarthy
Brandon McCarthy is an interesting candidate for a few reasons. One being that he would only be considered if we can't sign a guy like Kyle Lohse or Ryan Dempster. It will be interesting to see how McCarthy comes back next season, as his 2012 was ended on a terrifying injury. On September 5th 2012, McCarthy took a line drive to the head off the bat of Erick Aybar of the Los Angeles Angels of Anaheim but managed to get back on to his feet. He underwent surgery for 2 hours to relieve cranial pressure after CT scans revealed McCarthy had suffered an epidural hemorrhage, a brain contusion, and a skull fracture.
Quickly going over McCarthy's repertoire, he has made some changes over the years that have made his numbers improve greatly. He replaced his 4-seam fastball with a cut fastball which proved to be a great decision as his homeruns per 9 innings pitched go from 1.3 to 0.7. This change also turned him into a fascinating ground ball pitcher. Besides his specialty fastball, he also mixes in a curveball and occasional change-up. He doesn't by any means have an arsenal like Zack Greinke (said to pitch 6 or 7 different pitches every game), but the mix he does produce gets the job done. It's simple and effective.
McCarthy after being struck in the head with a line drive.
McCarthy will turn just 30 years of age this coming July. So, essentially he still has a very decent arm. The biggest thing will be if he can come back and not be afraid of being struck again by a ball. The problem with McCarthy also is that it is hard to evaluate him properly. He played only 2 seasons with Oakland. His first year there, the team itself was terrible. His decent numbers were overshadowed by how awful they were. Then last season, as previously noted, his season was cut short by a head injury. Any team that pursues McCarthy will be taking a risk. However, it's a low risk that could turn out to be a high reward. McCarthy won't require a huge amount of money to sign. I expect him to sign a deal where he could make between 11 to 12 million annually. That price range is something that could interest the Brewers, however that price could go up depending on how the market shapes up for other pitchers.
3. RHP LaTroy Hawkins
The Brewers not only need a new bullpen, but they also need someone who is a veteran of the league in there as well. As of right now, the Brewers bullpen only consists of John Axford, Jim Henderson, and Brandon Kintzler. Without a veteran guy like Hawkins in the pen, the bullpen itself would not be able to handle a collapse much like the one we witnessed last season. That being said, hopefully Axford has worked out all of his issues and can bounce back with a year similar to 2011.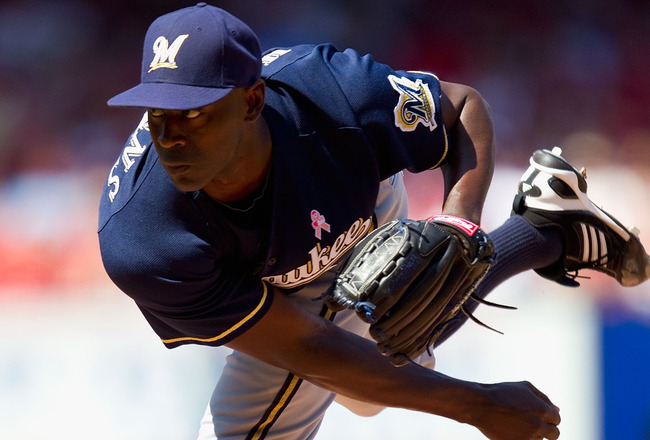 Speaking of 2011, that was also the year LaTroy Hawkins pitched for us. Hawkins, along with almost everyone out of our bullpen, was lights out 2 seasons ago. Hawkins is now 39 going on 40 years old in December, but still manages to bring the heat. Last year he was with the Angels and wasn't really able to shine like he did with the Brewers. Hawkins suffered a broken pinky finger which put him out of action for a while. When he was able to pitch, Hawkins did quite alright. Hawkins, for the most part, was able to keep his 2012 numbers below his career averages, which is a good sign considering his age.
Last week it was reported that the Brewers did make a call to the agent of LaTroy Hawkins to inquire on any interest with returning to the team. As of now, that's as far as the conversation went. We will likely know more during or after the Winter Meetings on his interest level. The most intriguing aspect about Hawkins is how inexpensive he can be. Last year me made just 3 million dollars. The Brewers could easily bring him back for about half of that, maybe 2 million at most. His age will factor into the money offered.
4. 2B/3B Orlando Hudson
So here is my choice for a utility player that will offer the pop it will so much desire in 2013. As of right now our bench consists of Mat Gamel, Martin Maldenado, and Logan Schafer. We will likely add another infielder to that mix, such as Taylor Green or someone of that nature. The problem the Brewers will have in signing this utility guy is that they will have to convince a guy to come in knowing he will not be a starter unless there is injury or a substitution for a slumping player or a day off. That is a very difficult thing to do because any free agent is looking to sign with a team looking to fill a starting role.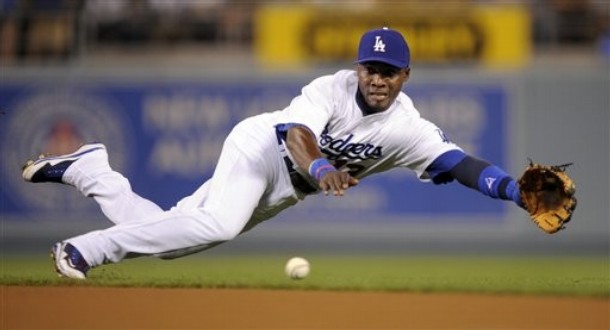 However, I think Hudson is one of the very few free agents out there that would be just fine with that kind of direction moving forward. Hudson will be turning 35 in a few weeks and is likely looking for one last turn around before he calls it a career. Hudson struggled in his final days as a Padre, as he eventually was released by the team after he was benched for his production. He was quickly signed by the White Sox and finished the 2012 season there. Although his batting average didn't show improvement, his overall production increased with his new setting in Chicago. In 35 games with the Padres, Hudson batted .211 with 0 doubles, 5 triples, 1 homerun, 11 RBI and 8 walks while striking out 27 times. In 52 games with Chicago, Hudson batted .197 with 3 doubles, 3 triples, 2 home runs, 17 RBI and 12 walks while striking out 24 times. This isn't a ground breaking difference by any means, believe me. However, I think there is an upside in Hudson that I think the Brewers could benefit from. He's a veteran, and he would be a good locker room presence.
Hudson is a career .273 hitter, so it's unlikely he has a worse season then he had last year. Furthermore, I believe Hudson can still play a great game of baseball. Through 2011, he had the second-highest career range factor (calculated by dividing putouts and assists by the number of innings or games played at a given defense position) per game of all active major league second basemen, behind Ian Kinsler. Also, Hudson could come as a cheap pick up, too. 2 seasons ago, Hudson signed with San Diego for 2 years, 11 million. Brewers could go and offer that same contract, and I would be okay with it.
5. LHP Mike Gonzalez
Much like bringing in Hawkins, the same mindset goes for bringing in Mike Gonzalez. As much as it is appealing to have an all "young gun" pitching rotation and bullpen, much like what we've seen from teams like Tampa Bay, Oakland, Cleveland, and Cincinnati, I just don't see it being successful for the Brewers. Sure, we has oodles and oodles of pitching on our minor league teams that seem very appealing to call up. However, you have to be reasonable and realistic at the same time. When you have a guy in a bullpen that is struggling, having the veteran in there goes a long way. In a somewhat decent example, look at when Hoffman's arm died. He was able to mentor John Axford into a top closer in the MLB.
Getting back on track, the Brewers decided to part ways with Manny Parra on November 30th when they decided to not tender his contract, thus making him a free agent (which I don't have any problems with). Thus, Mike Gonzalez would be the guy I would replace him with. Let's take a look at the split stats over both Manny and Mike's careers.
Manny Parra vs. LHB: .267 BA, 2.55 SO/BB, .349 OBP, .417 SLG, .766 OPS
Mike Gonzalez vs. LHB: .209 BA, 3.63 SO/BB, .278 OBP, .327 SLG, .605 OPS
Manny Parra vs. RHB: .290 BA, 1.61 SO/BB, .371 OBP, .438 SLG, .809 OPS
Mike Gonzalez vs. RHB: .222 BA, 2.10 SO/BB, .325 OBP, .349 SLG, .674 OPS
One final stat to look at for both of these guys will hit home with many Brewers fans is this...
Career HR given up:
Manny Parra: 59 in 513 innings pitched. (3.5 major league years as a starter, 1.5 as a relief pitcher)
Mike Gonzalez 32 in 394.1 innings pitched. (10 major league years as a relief pitcher)
From top to bottom, Gonzalez is a better situational pitcher that the Brewers lacked so much in 2012. Gonzalez is a Scott Boras client, and the last known amount of money that I know he made a year was 6 million dollars. For what Mike has to offer, I think he would be a good investment to make if I were Doug Melvin. In other words, money well spent.
Until next time, Beers, Brats, and Championships.

-Andrew Vrchota (@AndrewVrchota)

Follow us on Twitter for up to date news on Brewers, Packers, Badgers, Bucks and more. Live in game commentary, breaking news, previews, and post game discussion. @WISportsBlog @AndrewVrchota, @JoeP_Norton, @Brandon_BFP, @SMahon2Go. Finally, find us on Instagram! (wisportsblog)