Tweet
Round 1 - Jace Amaro, TE, Texas Tech
This wouldn't have been my pick a few months ago. But, with the latest developments to Jermichael Finley's severe injury and questionable future as a football player not just on the Green Bay Packers, but in the National Footwritten, ague, this is a wise choice for Green Bay.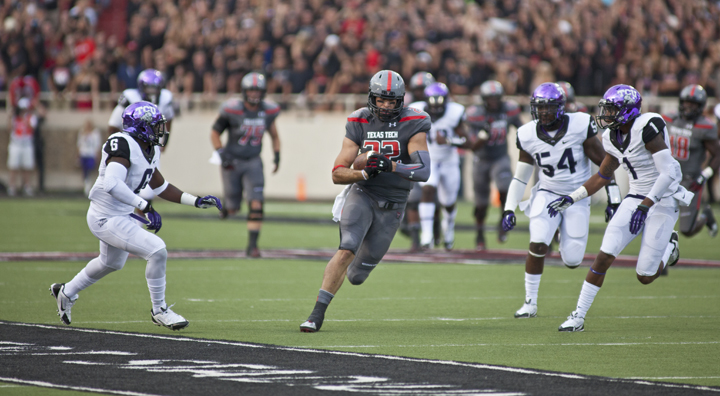 Jace Amaro (right), a junior at Texas Tech, was the highest ranked player out of high school to ever commit to the Red Raiders in team history. He's got a tall figure. A bit bulky, but has room to put on muscle. Runs great routes and has smooth maneuvers when going for extra yards. He breaks tackles with his motoring skills. All around, a great tight end prospect the Packers will be looking at on draft day.
Note: You'll find dirt on Jace Amaro from 2012. Jace and a teammate were arrested for reportedly making a purchase on a debit card without having the consent of the card holder to do so. From what I dug up, it was a teammates card. I don't think this is a red flag at all, considering other teams/players in the news in the recent years.
As far as injuries, in his sophomore year he was hit pretty hard in the midsection where he broke a rib and had his spleen punctured. He missed three weeks and was in the hospital on bed rest during that time. This past week he suffered an injury to his chest by Baylor safety Ahmad Dixon.
Coincidentally, Ahmad Dixon is my second round pick.
Ahmad Dixon is a projected second/third round pick, but he may be the best strong safety prospect in next year's draft. I think as the season carries on, Dixon's stock will rise into possibly even a Top 32 prospect. Dixon has speed and youth. By youth, i nean room to mature and grow. He's extremely fast running down field, which helps prevent the deep ball game a lot of quarterbacks like to mix in every now and then. He also is very aware of running games and will get involved in those contact plays as well.
At Baylor, during his sophomore and junior years, he played the strong safety position. This year, though, he has been playing a "hybrid" safety/linebacker position. Dixon still runs a 4.5 40 and will be drafted as a safety. With the Packers' defensive backs not impressing, especially M.D. Jennings and Jerron McMillian, they need to draft a defensive back early this draft.
Dixon would probably be a Top 32 pick already had it not been for his arrest for a misdemeanor assault back in September.
He allegedly attacked a man he believed had broken into his home. Not sure the exact story, but this wasn't at a bar or a nightclub where Dixon shouldn't have been. Not defending anything that happened, but it could have been a worse situation.
Round 3 - Michael Sam, DE/OLB, Missouri

Listed as a defensive end in college, he is much more projectable as a pass rushing outside linebacker. But, for what it's worth, I'll analyze both scenarios. First off, who is he and why such a high pick for someone you haven't heard of? As of the time this article was written, Michael Sam is tied with Vic Beasley for the most sacks this season with 10. He has a total of 16 tackles for losses, 1 forced fumble that he returned for a touchdown, and 24 solo tackles with 8 assisted.
As an outside linebacker, Sam would back up Clay Matthews and Nick Perry to provide a nice, well rested cycle of pass rushers that still has steam in the 4th quarter. Pass rush is still a part of the game the Packers need to improve on. There was a decline in pass rush after the Super Bowl season when we went from 47 sacks in 2010, to 29 sacks in 2011, then back up to 46 in 2012, and now through seven games the defense has 23 sacks. To keep things at consistent production, providing the depth necessary to continue to rush the quarterback is a great idea here.
As a defensive end, it seems we are at the tail end of the C.J. Wilson experience. We drafted Datone Jones in last year's draft and now this year if we take another defensive lineman it could mark the end of it. Wilson just isn't getting playing time over Raji, Daniels, Pickett, Jolly, and Jones. With the line aging overall, Sam can provide youth to replenish what we're losing to time.
He's majoring in Parks, Recreation, and Tourism.
Round 4 - Chris Borland, ILB, Wisconsin
A.J. Hawk isn't getting any younger. However, as of late, that hasn't really shown in his play. In the absence of Clay Matthews with his broken thumb, Hawk has really stepped it up for the Packers. Nonetheless, when Matthews was around, Hawk seemed to be lost at times. Adding depth at inside linebacker, just like outside, is a very good idea heading into May's draft.
The term "football player" gets thrown around a lot in evaluations. To me, no one personifies that better than Chris Borland of Wisconsin.
— Matt Miller (@nfldraftscout) October 31, 2013
Chris Borland is not your typical linebacker. Not at 5'11". However, the intensity Borland brings to the field every game makes up for his size. Borland has a knack for being involved in every play, every tackle. The numbers he has put up since a true freshman at Wisconsin is astonishing. Going into this Saturday's game Borland has 362 career tackles, over 50 tackles for loss, 13 forced fumbles, 15 sacks, and 3 interceptions.
Borland's instincts, mental preparation, and passion outweigh his smaller stature. His involvement on every play makes him an elite linebacker that can prevent a run game, attack the quarterback, and cause turnovers. I would love to see the Packers start day three of the draft with Chris Borland, the hometown kid.
If I were to not to go with Borland just because he's a Badger, I'm still really high on
Max Bullough, ILB, Michigan State
from a month or so ago.
Round 5 - Logan Thomas, QB, Virginia Tech
Logan Thomas is getting Cam Newton comparisons, which is a big comparison to throw out there. In a draft full of quarterbacks going in the first round, Logan will likely slip under the radar while Bridgewater, Manziel and Mariota are in the spotlight. Oh yeah, and don't forget Hundley, Carr, Mettenberger, Boyd, McCarron, and Murray too. My point is that not every team needs a QB, so the likelihood of Thomas falling here is great.
If you watched the Virginia Tech/Miami game from this past week, you know the kind of impact player Thomas is. He's 6-6, 254 pounds and runs a 4.6 40. It's a good investment for the Packers to draft a back up quarterback, at least to put in development. I'm totally fine with either Tolzien or Flynn backing up Rodgers next year and then having Thomas on the practice squad.

Round 6 - Dri Archer, RB/WR, Kent State
Meet the fastest player in this draft class. Dri Archer may be only 5-8, 178 pounds, but he's a speed demon. He's been clocked at running a 40 yard dash at 4.37. The Packers need to address the kick returning hole the team as after Jeremy Ross was cut and Johnathan Franklin struggled. Archer is a perfect example of a Devin Hester type player. Strictly on the team to return punts and kick offs. But, also, available to be a deep threat for Aaron Rodgers. Nothing else to really say here. It's a smart pick for the sixth round.
Round 7 - Carrington Byndom, CB, Texas
With the injuries to Sam Shields and Casey Hayward and the decline in productivity in Tramon Williams this year as well as the mediocre play by Davon House, the Packers need to figure out things at the corner back position. Now, I will defend the corner backs a bit because of our lack of pass rush and all of our other issues on defense, but we give up big plays to wide receivers on the first plays of the game all the way to the last plays of game.
Byndom would be a great steal for the Packers in the seventh round here. He's a solid defender. He's very lean, which could haunt him against guys like Calvin Johnson and co., but his quickness and athleticism counter the size deficiency nicely. He has room to put on some weight, but at a 4.5 40 time, I'm not sure how much more bulk he'd want to put on. He's a standard six feet tall, so at least there's that.
CBS's Rob Rang wrote this little excerpt about Carrington...

Byndom's lean frame allowed him to be pushed around by some of the bigger, more physical receivers in the conference, but his agility and hand-eye coordination quickly established him as a cornerback to think twice about challenging.

--Rob Rang
As far as what Green Bay would be looking for in the undrafted free agent side of things, I would expect a good amount of offensive and defensive linemen signed. Also, probably a fullback, another tight end, and a few wide receivers and linebackers too.
I'll have another Mock Draft for the Packers after the Super Bowl in late January if not sooner. Until then, Go Pack Go!
Until next time, Beer, Brats, and Championships.
- Andrew Vrchota (@AndrewVrchota)
Follow us on Twitter (@WISportsBlog) for up to date news on the Brewers, Packers, Badgers, Bucks, and Golden Eagles. We feature live, in-game commentary, breaking news, previews and post game discussions. Follow the entire Wisconsin Sports Blog writing team on Twitter: @AndrewVrchota, @jheldred, @JoeP_Norton, @olewr7, @Stevie2Westside, and @10iskristin.