A month ago, no one would have expected me to write a blog of this nature or of this magnitude. In a grand turn of events, however, the Brewers have played their way into contention and are just 2.5 games out of the second wild card spot. They trail only the Cardinals and Dodgers. They have moved above the Pirates in the standings after taking two out of three games against the Mets at Miller Park. While the chances of the Brewers actually making it to the post season remain slim, here are a few things they must keep up to even have a shot of achieving the path to the playoffs.
1. Our pitching needs to keep up the great, great work.
Since August 20th, the Brewers have gone a miraculous 20-6. A lot is thanks to our pitching and more importantly our bullpen. After the year our pen has had, it's great to finally say something good about it for a change. John Axford has been the key standout in all of it. In those 26 games, Axford has had 11 saves in as many opportunities. He has only surrendered 5 hits and 4 earned runs during that time span, lowering his ERA from 5.22 down to 4.76. His ERA in September is a very crisp and clean 2.16 heading into our off day Monday. Fransisco Rodriguez is also in the middle of having a nice stretch of games, similar to his form from last year. Minus his one hiccup against the Cubs on August 30th, he has been lights out for the Brewers. Since August 29th, he has surrendered 8 hits (4 vs. Cubs on 8/30), 4 earned runs (3 vs. Cubs on 8/30), and only giving up 3 walks during that time frame. Frankie's ERA for September is a nasty 1.29. His batting average against is a 1.60, his ground out/air outs is a 0.67, and his WHIP is a 0.71 in September as well. Ron Roenicke has bounced back between Henderson and K-Rod as his set-up man recently, but seems to be favoring K-Rod again.
Not getting into stats, but can't go with out mentioning the fact that Jose Veras, Brandon Kintzler, and Jim Henderson have also done quite well for the Brewers as of late and deserve the recognition. Manny Parra and Kameron Loe are the only ones still who can't get it together. Loe had a decent August, but both Parra Loe have struggled in September. Livan Hernandez had on of the worst Augusts in the league. He was, for a lack of a better term, destroyed by hitters. Since then, Livan has a goose egg for an ERA in September. If our late inning pitching can hold leads for our exuberant offense, we will definitely has a chance to do some great things come October.
2. Our speed needs to support the power.
Too many times this year have we seen our speed of Carlos Gomez, Rickie Weeks, Nyjer Morgan, and recently Jean Segura get caught up on the base paths by unintelligent, mental base running errors, which leaves Ryan Braun, Aramis Ramirez, Corey Hart, and Jonathon Lucroy somewhat helpless at the plate when these guys aren't on base. Those errors on the path have lead to a few losses in our column where we have lost games by a run or two. Still, even with the baserunning misshaps, Braun-Ramirez-Hart have proven to be MLB's top 3-4-5 hitter tandem in baseball this year. Those three have combined for 266 runs scored, 91 homeruns, 272 runs batted in, and a combined batting average of .295. The only teams that have more home runs by trio of players is the Yankees of Cano, Granderson, and Teixeira (92) and the Rangers of Beltre, Hamilton, and Cruz (97) Imagine how those numbers could be altered when Braun has hit his solo home runs and Ramirez hit his empty base doubles. It makes you wonder.
3. The fans need to fill "The Keg" on our last homestand.
As it was said last year, many have called Miller Park one of hardest places to win a baseball game on the road. Whether it's the fans being heard or it's us dimming the lights (eat crow, La Russa), Miller Park always has a great atmosphere when it's a full house. Last year the Brewers had the best home record in all of baseball, dropping only 24 out of 81 games played there (not including playoffs). This season, as of right now we have the 3rd best home record, only trailing the Reds and Rangers in that category.
I challenge you as Brewers fans to make an impact on the remainder of this season. Though you may assume it not be as magical as last year's, it has the potential to be the better story to tell. The extra support you give a team can go miles and miles into one's confidence. I invite you to go to Stub Hub, buy those dollar seats, and go enjoy a Brewers game. Depending on the outcome of our 10 game road trip, you could witness some very important baseball games, be there for unforgettable moments, and take in memories you will tell stories about for years to come. You may not take this seriously, but the Brewers are for sure taking it seriously. I mean, seriously enough where the Brewers sent out a press release about applying for postseason credentials. Yes, THAT serious.
And who knows, maybe I'm just buying in to all the hype and hoopla. We could get swept one series and be presumed eliminated. But, I'm a
#BREWliever
. (Thanks
Curt Hogg
for the awesome trend.) And there are many more like myself out there. (See below) Let's not have October 3rd be our last game of the season. Let's make what they thought impossible, possible.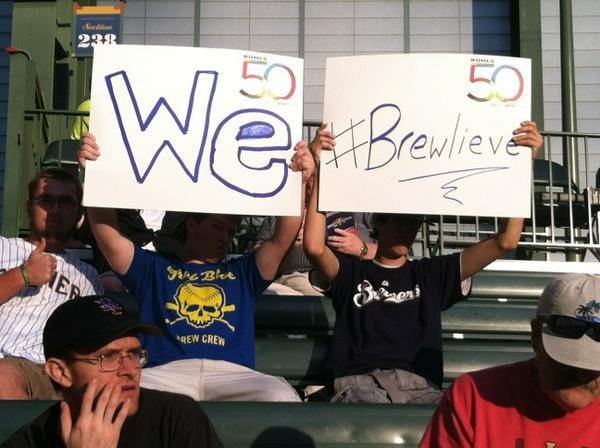 Twitter follower Curt Hogg sporting #Brewlieve vs. Mets
Until next time, Beers, Brats, and Championships.

-
Andrew Vrchota (@WSB_Andrew)

Follow us on Twitter for up to date news on Brewers, Packers, Badgers, Bucks and more. Live in game commentary, breaking news, previews, and post game discussion. @WISportsBlog @WSB_Andrew @WSB_Nick @WSB_Brandon @WSB_Mike @WSB_Harrison @WSB_Jason. Finally, find us on Instagram! (wisportsblog)