Not many things in NFL have been much worse than what occurred on Monday Night Football last evening in Seattle. The use of replacement players might honestly be the only thing that ranks higher. The final play of last night's game was not the only bad call during that game. There were plenty of them, unfavorable to both sides equally. Pass interference calls both called and not called, roughing the passer, a no call running into the kicker call. It was a complete mess from start to finish. And that play was only the beginning to the nightmare that was last night.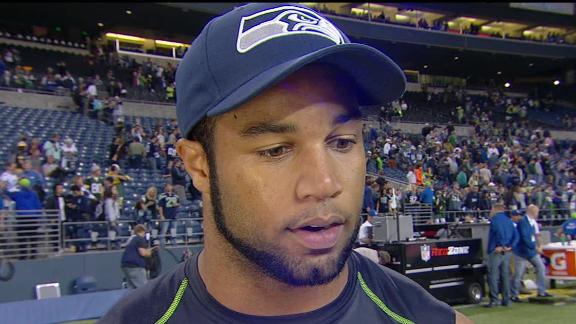 When you have players openly bashing the NFL who weren't even playing in Monday's game, it should really be a sign of the frustration levels of all the players as a whole. The fact that Golden Tate couldn't openly say he caught the ball should say something about the play. When ESPN's color commentators call this the most embarrassing call in NFL history, you would think it would raise a few eyebrows. However, the silence of NFL Commissioner Roger Goodell says everything that needs to be said. He doesn't care about the fans. He doesn't care about the players. He doesn't even care about the legitimacy of National Football League name. If he did, a statement would have been released. There would be no such thing as replacement referees this season.
First of all, Pete Carroll and Golden Tate should be ashamed of themselves for thinking they remotely came close to winning it fairly. What should have happened during their post game interviews should have been something along the lines of:
"Pete, what are your thoughts about the last play?" - ESPN
"Well, it looked like a close play. Could have gone either way. But what are you going to do? Game is over. Things happen." - Pete Carroll
But, that's not what happened. Pete Carroll made an absolute fool of himself. What was said (via Carroll's Twitter):
"WOW!!! What a game!! Love our guys for battling all the way to the end and never giving up! Our fans are incredible!!! Thank you 12s!! SEA!!!! HAWKS!!!!" - Pete Carroll
Golden Tate was far worse then anyone else on Seattle during interviews. When asked about the questionable no call of pass interference, he exclaimed "What are you talking about?" When asked about the play itself, he iterated "I just love to compete. I went up for the ball and came down. I didn't hear a whistle so I kept fighting for it...I don't know where my left arm was at the time."
So, let me get this straight. Golden Tate was credited for a touchdown catch, yet he was "competing" and "fighting" for the ball and didn't know where one of his two arms were? Okay, that makes sense.
On the other side, many Green Bay Packers voiced their opinions on the situation. Many of them, including Greg Jennings, Tom Crabtree, T.J. Lang, Josh Sitton, and Jermichael Finley, took shots at the NFL, the integrity and manhood of the Seattle players, coaches, and fans, as well as sarcastic comments suggesting the fine money they will be hit with should go to paying the real referees. There are going to be a lot of fines and possible suspensions handed out to many Packer players. Mike McCarthy and Aaron Rodgers kept it as clean and censored as possible during their post game interviews, so I wouldn't expect to see any fines handed out to either of them. Rodgers did shove a camera guy, but I don't that will cost Rodgers.
So where do we, as fans go from here? Boycotting the NFL would be something to look at. But, in order for it to work, you would need full participation. And that is unlikely to happen. Let's look at realistic things that could happen that we can control, and what the players can control without starting a player's strike.
1. Season ticket holders mail their remaining tickets to the Commissioner's office at the NFL HQ.
This would send a serious message to Roger Goodell and the owners. If people don't go to the games, there's is no money to be made other then what they used to buy the tickets. No food, no beverages, no parking, no merchandise. Nothing. Like the saying goes... hit 'em where it hurts...the pocketbook.
2. Fans abandon televised games during Week 4 and on if need be.
If ratings are down, that means the checkbooks are being hit just as much as returned tickets. Imagine the missed opportunities with sponsorships for teams and the NFL as a whole. This will grab the attention of all parties involved. The ball would get rolling in talks with referees if this were to occur.
3. Players give no effort in games until something is done.
Look, the game is already a partial mockery with the replacement refs. The NFL isn't putting out a quality product for the fans. So, why not? Players line up for the play, ball is snapped and they just jog around the whole game. This would assist in my first two suggestions. Fans would turn the games off and season ticket holders wouldn't want to go to games were this would be going on.
Finally, I want to make a point about the overall performance of the Packers. Should they have even been in that situation at the end of the game? Absolutely not. We played God awful the first half. Defense gave up 8 sacks. Offense was, again, out of sync. We failed to score in the first quarter for the third straight game. There's no excuse for that. But, Seattle played a great game. Their defense was lights out. I have no problem with them as a team at all. I just want to see someone mad up out of that organization and say that they didn't win that game cleanly and that the refs made the wrong call. That's all I want and I will be satisfied.
Here's what I saw from the last play: Golden Tate pushed the Packers defender out of the way, which was an uncalled pass interference, and the game should have ended right there. Anyways, MD Jennings jumped up in the air, put two hands on the ball, along with one hand of Tate's. Tate fell underneath Jennings, which insued a small scrabble. At one point of the scramble, Jennings clearly has sole possession on the ball with both arms tucked to his chest with the ball in hand. Meanwhile, Tate has his right arm wrapped around Jennings' neck area, and his left arm isn't clearly visible. One referee signaled touchback, the other signaled touchdown. The right call was made by referee deepest in the endzone.
If you want to act on the event from last night, or anything for that matter that has bothered you about the replacement referees, you can call the Commissioner's office to voice your opinion at (212)-450-2000. Call Roger Goodell and leave him a calm, proper opinion on what you think of his handling of his company and his product. Until then, all you can do is be the judge.
"I want to apologize on behalf of the NFL, because we all know they won't do it." - Aaron Rodgers
Until next time, Beers, Brats, and Championships.

-Andrew Vrchota (@WSB_Andrew)

Follow us on Twitter for up to date news on Brewers, Packers, Badgers, Bucks and more. Live in game commentary, breaking news, previews, and post game discussion. @WISportsBlog @WSB_Andrew @WSB_Nick @WSB_Brandon @WSB_Mike @WSB_Harrison @WSB_Jason. Finally, find us on Instagram! (wisportsblog)