Packers fans were down after their team's 30-27 loss to the Colts in week 5. Really down. And heading into Houston, the home of the 5-0 Texans, and without Greg Jennings for a second straight week, things weren't looking much better.
Injuries to other key players including Cedric Benson and B.J Raji were sure to limit the Packers and hinder their chances of beating arguably the NFL's most complete team. An offensive line that gave up 8 first half sacks to the Seattle Seahawks was sure to struggle in protecting their star quarterback from J.J Watt, the league's top pass rushing defensive end.
Factor all of this into the equation and most folks probably didn't expect the Packers to escape Houston with a win on Sunday night, but there is one thing that many probably did not put enough faith into – Aaron Rodgers. A healthy Aaron Rodgers is a very dangerous quarterback no matter who he is throwing the ball to, but a healthy, angry Aaron Rodgers is a scary, scary man.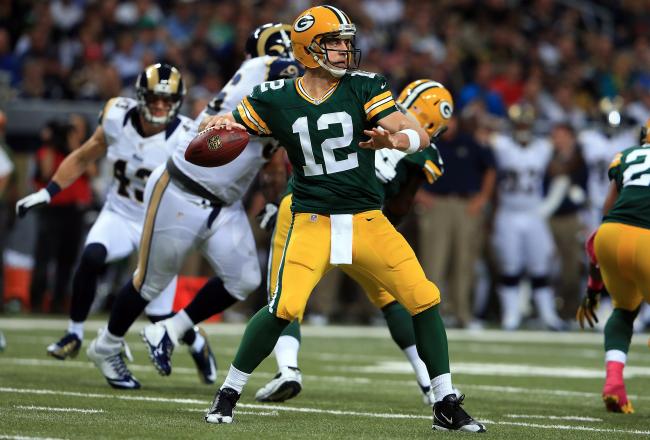 Rodgers did what Rodgers does best in carving up the Texans defense in throwing for 338 yards and tying a franchise record with 6 touchdown passes while not throwing an interception on the night. Jordy Nelson stepped up in a big way, hauling in 3 touchdown passes and role players James Jones and Randall Cobb filled in nicely to ease the pain of an absent Greg Jennings. Alex Green filled in admirable for the ailing Benson and the line managed to contain Watt enough to allow Rodgers to do his thing from inside the pocket most of the night. Arguably most promising was job of the the Raji-less defense in holding the league's most dangerous running back in Arian Foster to a lowly 29 yards on 17 carries.
All things considered, Packers fans have to be happy with the 42-24 victory and the promise of the Packers getting back on track heading into a pair of more than winnable games against the Rams and Jaguars.
The question we must ask is: Is the Pack back?
My answer to this is to wait and see. While last week's performance was certainly a promising one, let's see how the team responds against a Rams team that could be the league's worst. Jody Nelson needs to emerge as an elite wide receiver, especially if the team is going to let Jennings walk in the offseason. Randall Cobb needs to continue to prove himself as a legitimate threat out of the slot and Jermichael Finley needs to be a lot more consistent that he has over the last year and a half.
On the defensive side, Jerel Worthy needs to be a consistent presence against both the run and the pass and Dom Capers needs to fill the void left by an injured Nick Perry, whose status going forward is still uncertain.
Everyone knows the Packers are a good team, but whether or not they can overcome the adversity of a couple heartbreaking losses on top of several injured starters, as they did in 2010, remains to be seen.
Until next time, Beers, Brats, and Championships.

- Joe Norton (@JoeP_Norton)

Follow us on Twitter for up to date news on Brewers, Packers, Badgers, Bucks and more. Live in game commentary, breaking news, previews, and post game discussion. @WISportsBlog @AndrewVrchota, @JoeP_Norton, @Brandon_BFP, @SMahon2Go. Finally, find us on Instagram! (wisportsblog)