I want to make this clear, because I feel many will read this and immediately go to Twitter and crucify me if I don't make this clear. If I had a vote for these awards, these are the players I would vote for. This does not necessarily mean I think they will win, but more of who I view as most deserving. I will go over NL and AL Most Valuable Player, NL and AL Cy Young, NL and AL Rookie of the Year, NL and AL Rolaids Relief Man of the Year, and NL and AL Comeback Player of the Year. I will indicate at the end of each category who I think will win, just to make everyone happy. Let's start with the big one, MVP.
American League Most Valuable Player - 3B Miguel Cabrera
His number are incredible this year, and they are greatly connected to the Tigers success this year on winning the AL Central back to back years. Cabrera led the AL in batting average, homeruns, and RBI, which gives him a batter's Triple Crown, the first in Major League Baseball since
Carl Yastrzemski
in 1967 for the Boston Red Sox. Cabrera is batting .330, 44 HR, and 139 RBI. He is four points ahead in batting average, one ahead in homeruns, and eleven ahead in RBI. He trails his MVP running mate, Mike Trout by twenty runs scored in that category. Besides that and stolen bases, Cabrera has Trouts number as far as production is concerned. Trout has struck out more and has a lower OPS than Cabrera. I think this vote, although will be very close, really should be a simple selection for many.
Who I think will win: Miguel Cabrera
Runner Ups: Mike Trout, Adrian Beltre, Josh Hamilton, Derek Jeter,
Edwin Encarnacion
.
National League Most Valuable Player - LF Ryan Braun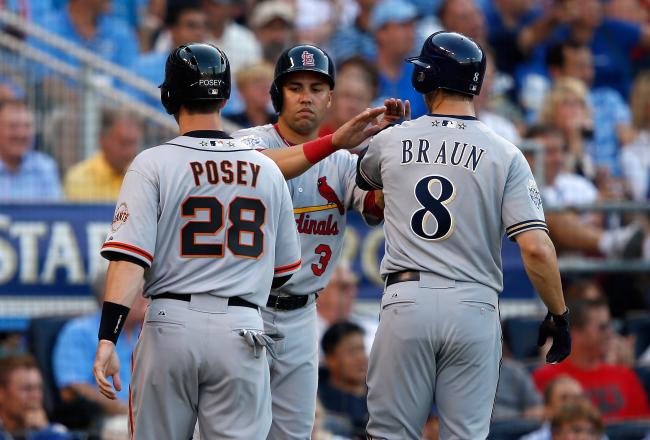 This is an easier vote than AL MVP, that's for sure. Ryan Braun is Top 3 in almost every offensive category. Ryan Braun is currently in 1st for runs scored, 2nd in hits, 1st in homeruns, 2nd in RBIs, T-9th in stolen bases, 3rd in batting average, 4th for on base percentage, 1st in slugging percentage, and 1st in on base + slugging percentage. Braun would be in the clear for a second consecutive MVP, however he will be faced by voters who will hold last season's positive drug test against him, which was overturned and Ryan was exonerated. Also, he has tight competition again this year, much like last year with Matt Kemp and Troy Tulowitzki. This year, Andrew McCutchen and Buster Posey are his competition. Here's my one argument. Posey had a slow start and a strong finish. McCutchen had a strong start and a slow finish. Braun really didn't slump at all and remained consistent throughout the year. Braun came up short to leading his team to the post season, however did lead them to their second winning season in a row.
Who I think will win: Buster Posey
Runner Ups: Ryan Braun, Andrew McCutchen, R.A. Dickey, Gio Gonzalez, Yadier Molina.
American League Cy Young - RP Fernando Rodney
The last closer to win a Cy Young award was Eric Gagne in 2003. This year, Rodney is deserving of many votes and considerations. Rodney's numbers sit at 2-2, converted 47 saves in 49 chances, and in doing so has a .061 ERA, a .167 batting average against, and a .078 WHIP. Many will argue that a relief pitcher shouldn't be so highly considered for a Cy Young, but I beg to differ. They are depended on to come in and guarantee a victory in the clutch. They make more appearances than starters, however starters obviously have more innings and strikeouts etc.
Who I think will win: David Price
Runner Ups: Jared Weaver, Justin Verlander, Chris Sale, Felix Hernandez, Fernando Rodney, Jim Johnson.
National League Cy Young - SP R.A. Dickey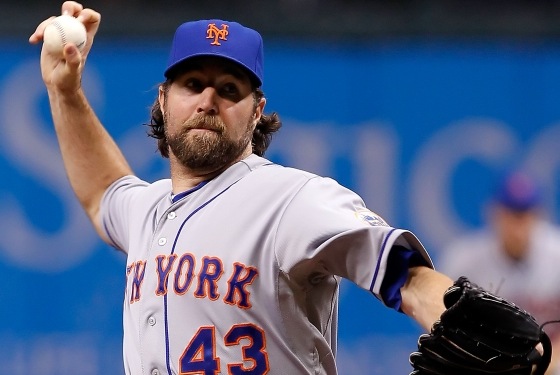 The man climbs Mount Kilimanjaro in the offseason, returns to baseball and has the best pitching season of his career. I want to know what's at the top. Dickey posted a 20-6 record with a 2.73 ERA and 1.05 WHIP, accumulating 230 strike outs over 233.2 innings. All this accomplished while playing for the Mets. A Mets team that finished at a dismal 73-88 with one game to play. His toughest challenger for Cy Young, and rightfully so, is Nationals' Gio Gonzalez, who has gone 21-8 on the year with a 2.89 ERA and a 1.13 WHIP, getting 207 strike outs over 199.1 innings. Gio lead his team to a 97-64 record with one game to play. Both have great resumes for the right to be the National League Cy Young.
Who I think will win: Gio Gonzalez
Runner Ups: R.A. Dickey, Johnny Cueto, Craig Kimbrel, Matt Cain, Cole Hamels.
American League Rookie of the Year - OF Mike Trout
Mike Trout has had this locked up since the All-Star break. You could argue even before that. His stats are of one you would see from a seasoned veteran, not from a rookie. Mike Trout has 30 homeruns, 83 runs batted in, 129 runs scored, 49 stolen bases, and a .324 batting average. He also carries a .958 OPS, the highest on base + slugging percentage by any rookie in the American League since Mark McGuire in 1987. Besides Yu Darvish of the Rangers, this really isn't that much of a competition.
Who I think will win: Mike Trout
Runner Ups: Yu Darvish,
Yoenis Cespedes, Jesus Montero
National League Rookie of the Year - 1B/3B Todd Frazier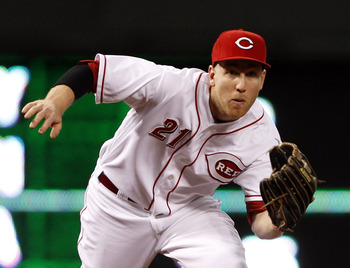 This is a much tighter race than the American League ROTY. Many more viable options, both batting and pitching wise. Personally, the work Todd was able to do for the Reds while Joey Votto was on the shelf for two months with a knee injury and filling in at third base for Scott Rolen as well. In 127 games, Frazier hit 19 homeruns, 67 runs batted in, 55 runs scored, with a .273 batting average and a .831 on base + slugging percentage. Frazier's play on defense also has to be considered, as he has made many incredible stops at the corners. Frazier's competition is a heavy bunch, which includes names of Bryce Harper, Wade Miley, Norichika Aoki, and Wilin Rosario. Norichika Aoki is a top performer in all offensive categories, but because he came over from Japan's pro league, writers don't see him as a true rookie. Bryce Harper was many people's predicted picks for ROTY when the season started. Granted his numbers were good, but Harper had two very significant slumps this season. Wilin Rosario has put up exceptional numbers for the Rockies this year, and will likely be their catcher of the future. Wade Miley is the only pitcher from the NL that I would consider for ROTY, as he went 16-11 in 32 starts.
Who I think will win: Bryce Harper
Runner Ups: Wade Miley, Todd Frazier, Norichika Aoki, Anthony Rizzo, Wilin Rosario
American League Rolaids Relief Man of the Year - RP Rafael Soriano
Realistically, this could go to Soriano, but also to Jim Johnson or the Orioles and Fernando Rodney of the Rays. I would give it to Soriano just because he had to replace Mariano Rivera, which is no easy task nor does it garner any less pressure as a relief pitcher. Rodney has the lowest ERA (.067), WHIP (.078), and average against (.167), while Johnson has the most saves at 51. Soriano has converted 42 of 46 saves, Rodney has converted 47 of 49, and Johnson has converted 51 in 54 tries. None of them have an ERA higher than 2.50, and none have a WHIP higher then 1.20. They all have solid numbers. It's just a matter of what the voters deem as more important, stats vs. success.
Who I think will win: Fernando Rodney & Jim Johnson (co-award winners)
Runner Ups: Rafael Soriano, Joel Peralta, Vinnie Pestano, Chris Perez
National League Rolaids Relief Man of the Year - RP Craig Kimbrel
This is an easy one for me, and it should be for many. After blowing people away last year during his rookie season, he continued his success in 2012 and is still turning heads. Kimbrel has 42 saves in 45 chances with a 1.02 ERA. He also carries a league leading low WHIP of .065 and batting average against .123 for any closer in either leagues. Kimbrel has only surrendered 14 walks on 113 strikeouts over 61.2 innings of work. He only has given up 3 homeruns this season, and only had 7 runs cross the plate while he was on the mound. Although his competition of Jason Motte and Aroldis Chapman had phenomenal years themselves, Kimbrel is the clear leader of the pack.
Who I think will win: Craig Kimbrel
Runner Ups: Aroldis Chapman, Jason Motte, Jonathon Papelbon, Joel Hanrahan.
American League Comeback Player of the Year - DH Adam Dunn
Comeback players are really hard to judge because there are two main players that are judged for this category. One is the player who over comes a slump from the season before. Whether it's a pitcher who couldn't pitch our of a wet paper bag and now turned it around or its a batter who couldn't hit the broad side of a barn and is now an offensive warhead. The second player considered is one who was seriously injured the year before or a few years before. They come back after injury and play at a level as if nothing ever happened. I'm sticking with the slump idea for the American League and I select Adam Dunn. 2011 was not only the worst hitting season of his career, but in all of baseball's history. In 2011, in 122 games, he hit just 66 times, 11 homeruns, 42 runs batted in, 177 strikeouts with a .159 batting average. In quite the turnaround, Dunn's numbers this year are 110 hits, 41 homeruns, 96 runs batted in, with a .204 batting average and 222 strikeouts. Ignoring the average and strikeouts, his numbers had a complete flip flop from last season. Dunn has played 30 more games this season, so doing the math his 177 strike outs from last year would have been around 215 this year had he played 152 games.
Who I think will win: Adam Dunn
Runner Ups: Jake Peavy, Alex Rios, Edwin Encarnacion
National League Comeback Player of the Year - C Buster Posey
There are many candidates for this award for the National League this season. You have the return of Stephen Strasburg after being out 13 months. Adam LaRoche who had a dismal 2011 and had a complete turnaround. The same can be said for Ryan Ludwick and Jason Heyward. With what he had to endure during the offseason and because he exceeded many people's expectations, you could make an argument for Ryan Braun to be considered as well, but quite frankly it's very unlikely. The most deserving in my eyes in Buster Posey, who had his ankle shattered last season on a play at home and returned in 2012 to bid for the NL MVP award. Posey seems to have no repercussions of his injury and is playing like his old self, the one who won him Rookie of the Year in 2010.
Who I think will win: Buster Posey
Runner Ups: Stephen Strasburg, Jason Heyward, Ryan Ludwick, Adam LaRoche, Ryan Howard, Ryan Braun
And real quick, not that they need full statements, but my AL Hank Aaron Award would have to go to Josh Hamilton with Mike Trout, Miguel Cabrera, and Robinson Cano as runner ups. My NL Hank Aaron Award would go to Chase Headley, with Ryan Braun, Adam LaRoche, and Giancarlo Stanton. My NL Manager of the Year in Davey Johnson and my AL Manager of the Year is Buck Showalter. NL Executive of the Year is Mike Rizzo and my AL Executive of the Year is Billy Beane.
Until next time, Beers, Brats, and Championships.

-
Andrew Vrchota (@WSB_Andrew)

Follow us on Twitter for up to date news on Brewers, Packers, Badgers, Bucks and more. Live in game commentary, breaking news, previews, and post game discussion. @WISportsBlog @WSB_Andrew @WSB_Nick @WSB_Brandon @WSB_Mike. Finally, find us on Instagram! (wisportsblog)