A report came out this evening regarding a pretty strong rumor that the Packers will likely cut Jermichael Finley at the end of this season. To be honest, this potential move does not surprise me in the least.
It doesn't surprise me because of what we already know. Finley repeatedly ran his mouth all season about how the chemistry between him and Packers' quarterback Aaron Rodgers was not at a sufficient level this season as we saw last year. And, he continues to run his mouth. Most recently he made comments about the Bears that put the spot light on him. Don't get me wrong, I'm all for a little trash talking between rival teams, but when you do it make sure you don't sound like a complete imbecile in the process. His trash talking turned a complete one-hundred and eighty degrees on him and made him totally contradict his words. For those who weren't following the bickering between teams this past week, Finley made the comment of saying the Bears are "better off without a slow Urlacher". Urlacher responded later in the week by saying the Packers were "just fine without Finley when they won the Super Bowl". But, let's get one thing straight right off the bat. This is not a move just to get rid of someone that is a poisonous cancer to a locker room.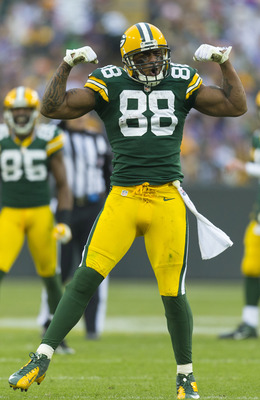 Let's look at this from a general manager's standpoint. So, here you have a guy who you just signed last year for fourteen million dollars. Since he signed, his production has dwindled to next to nothing. He doesn't drop the ball as much as he did last year, only because Aaron Rodgers doesn't really make him an option or even a threat in games anymore. In 2011, Finley caught 55 passes for 767 yards and 8 touchdowns. Through 13 games this season, Finley has only caught 43 passes for 464 yards and 2 touchdowns. To put that into perspective for you, when he got injured in 2010, through 5 games Finley had 21 catches for 301 yards and scored 1 touchdown. Tom Crabtree has more touchdown receptions than Finley. Get my drift? Sure, he's a huge threat down the middle of the field and a huge mismatch to many teams, but how often have we seen that this year? He's had 2 "big games" this year. And when I say big, I mean he scored a touchdown. The first game of the season versus the 49ers and the other game against the Lions a few weeks back. Other then that, he's been awfully quiet on the field and very loud off of it.
Going back to the money side of it, the Packers are in position to have a very different offense next year. Greg Jennings could be lost to free agency, Donald Driver is likely to hang up his jersey, we potentially could be without Finley, and who knows what our running game will look like next season? Personally, I think cutting Finley has to do with making room on our salary cap. I'm not sure exactly how much it would free up (we'd still pay part of his yearly salary and his signing bonus if there was one), but I'm confident when I say they want to keep Jennings in town and want to offer him something he can't refuse before other teams have a chance to get him.
So, what does Finley do if he is released? One team that sticks out like a sore thumb is only 92 miles away from Milwaukee. Here's why: A.) The Chicago Bears are in dire need of a tight end. B.) They haven't had a legit tight end since Greg Olsen in 2010. C.) Kellen Davis is not a threat down field at all. And, with just how Jermichael conducts himself, him moving to Chicago and playing for them would be something I could see him carrying out and doing.
The one thing I will say that does surprise me about this whole ordeal is the fact that it was actually leaked through the organization and into the piranha tank that is the social media network. Usually, the Packers are a very "hush-hush" group that doesn't come out and say things like this until after the fact. It's just a very uncharacteristic occurrence by the team. That being said, if Finley is released, he can be a huge threat no matter what team he signs for. All he has to do is wake up, get his head on straight, and catch the football and he is right back to where he was in 2011. He'd be back to being one of the most dynamic, deadly options any quarterback could ask for.
Until next time, Beers, Brats, and Championships.

-Andrew Vrchota (@AndrewVrchota)

Follow us on Twitter for up to date news on Brewers, Packers, Badgers, Bucks and more. Live in game commentary, breaking news, previews, and post game discussion. @WISportsBlog @AndrewVrchota, @JoeP_Norton, @Brandon_BFP, @SMahon2Go @ryan_937, @Mik3_Schu. Finally, find us on Instagram! (wisportsblog)