The Brewers managed to turn a lost season into a postseason race when they caught fire at the end of the year. Instead of needing to rebuild after a losing season, the Brewers are in position to merely retool on a team that almost made the playoffs. This has led to the Crew having a pretty quiet offseason so far.
Young
Arms
I think the main reason for both the exciting end of the 2012 season and the slow off season, is the quality work of the young starting pitchers. Those young pitchers are going to be key to both the immediate and long term success of the team. We saw Oakland win a division with a young starting rotation, why not the Brewers? Barring any other moves made by Doug Melvin, this is how I could see the rotation lining up

.
Yovani Gallardo -
At this point we all know what Yo is. He's a fringe ace who as the ability to dominate like a #1, but will occasionally throw up a clunker of a start. Fortunately for the Brewers, Gallardo has consistently improved is consistency over the years and should provide a stabilizing force in front of the young hurlers.
Mike Fiers -
What do we make of Mike? He absolutely dominated the National League after his call up, striking out a ton of hitters despite his below average fastball. Then, in his last few starts, Fiers got rocked (though still put up solid strikeout numbers). So did Fiers run out of gas at the end of a season that saw him throw a career high in innings, or did the league catch up to him? The answer to that question will likely shape how good this rotation can be. As a 27 year old pitcher who relies on deception through a funky delivery and pin point command, I would feel much more comfortable relying on Fiers near the bottom of my rotation and hoping his performance can be somewhere in the middle.
Marco Estrada -
Marco proved last season that he deserves a spot in the rotation, posting big strikeout numbers without the benefit of great stuff. We either saw the pitcher Estrada is when given the chance, or we saw a guy have his career year. Even if 2012 was a career year, Estrada can still be a useful part at the lower end of the rotation while providing the upside of a good #3.
Wily Peralta -
For me, Wily is the x-factor for the Brewers 2013 season. He has the potential to be a very good #2 for a good rotation. He has the frame of a workhorse starter who should be able to handle 200 innings and his pure stuff is better than Gallardo's right now. Peralta's command and control are both below average at this point in his career. We've seen Gallardo improve his control at the big league level and if Peralta can do the same, sooner rather than later, he could be a beast at the top of the rotation. Given his lack of track record, Wily will likely open the season in the third or forth spot in the rotation, but I wouldn't be surprised if he ended up being the second best starter on the team.
Mark Rogers -
Rogers is going to be a wild card for the Brewers. Everyone knows his story and despite all of the injuries, Rogers still has dominate stuff. More so than Peralta, Rogers has the stuff to blow hitters away, as long as he actually knows where the ball is going. I think Rogers opens the season as the #5 starter for a few reason. Firstly, he is out of options and would assuredly be claimed by another team if we tried to take him of the active roster. Secondly, given his injury history, I don't trust Rogers' arm to hold up in a bullpen role he has never had before, he's a starter or nothing at this point. Lastly, having Rogers in the 5th spot allows the Brewers to try and manage his innings a little better. Ultimately Rogers will be shut down at some point during the season as the Brewers are going to be very cautious with his arm, especially if he has success at the major league level. They will need to fill his spot with some one from the next list. Rogers is an exceptional talent and we can only hope that he has finally put the injuries behind so that he can finally become an above average Major League pitcher.
These are the next pitchers who could fill in should someone go with injury, or to take over for Rogers. I have them listed in the order I think they would've used.
Tyler Thornburg -
With a good spring training, Thorny (I hope he doesn't mind me calling him that) could actually open the season in the Brewers bullpen. Combining the stuff to dominate in short stints, his history of losing velocity later in starts, and giving up fly balls, Thornburg could ultimately he a reliever anyways. The Brewers will give him every opportunity to be a starter for the long term, so I think he starts the season and the Brewers 6th starter either at Triple A or in the Big league bullpen.
Hiram Burgos -
Burgos had a monster season across three levels in the minors winning the Brewers Minor League Pitcher of the year award. His stuff is average and he needs to rely on command to get hitters out. Burgos is probably ready to be a 5th starter or swing man at the big league level right now, but I think he opens the season at Triple A to maintain organizational depth.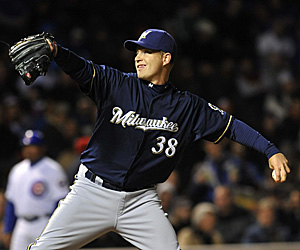 I put
Johnny Hellweg
,
Ariel Peña
, and
Jimmy Nelson
all in the same category, high ceiling pitching prospects (I personally like Nelson the best) that are likely to spend the year between Double and Triple A. They all have to stuff to succeed in the majors if called upon to make an emergency start.
Chris Narveson
and
Josh Stinson
both, to me, should be in the pen where they could be multi inning guys who could make an spot start if needed.
Add in prospects
Taylor Jungmann, Jed Bradley, Nick Bucci, Drew Gagnon,
and others, the Brewers have a decent stockpile of young arms.
Now the question is, should the Brewers be relying on these young arms? Some people would rather that we were more active in the veteran free agent market. While that idea does have some merit, it is easier to project a veteran pitchers performance then a young one's, I don't think now is the right time for that. The Brewers haven't had much success recently with free agent pitchers, this offseason's crop likely wouldn't do us much better. We are not an organization flush with cash to spend, so the top tier arms are going to be out of our price range, and the guys that are in our price range, don't inspire much confidence. As we have seen in the trade market, the prospect price for good players has been very high. It would likely take quite a few of our good young pitchers to bring anything of value back, an idea I'm not very fond of. Lastly, building a team around these young arms frees up some money to address the real weaknesses of this Brewers team; the bullpen and the bench.
The Bullpen
The only hold overs from last years comedy of a bullpen are John Axford, Jim Henderson, and Brandon Kintzler. When these guys are in their game, they have the ability to lock down and dominate the 7th, 8th, and 9th innings. The problem, however, is that there is a severe lack of track record with these pitchers. I think Ax-man will be fine, but Henderson was a 30 year old Rookie who saw his first major league action, and Kintzler is a former independent league pitcher coming off an elbow injury. Here's to hoping that these guys can be as good as they were in 2012.
Barring any more moves made (which would be a tough pill to swallow considering the deals signed by Sean Burnett and Jason Grilli) the rest of the pen would look something like this, depending n the number of pitchers we carry.
4th spot - Narveson, J

osh

Stinson, or Burgos as the long man.
5th spot - Miguel De Los Santos, Travis Webb, or Narveson as the lefty.
6th spot - Fautino De Los Santos or Thornburg, with a good spring either of these guys could lock up spot.
If we carry 7 relievers, the last guy could be a pick of guys like Burke Bedanhop, Arcenio Leon, Michael Olmsted, or Jesus Sanchez.
The Bench
The Brewers starters are strong, so it would be nice to surround them with stood supporting cast. Again, if we do not make any other moves, the bench could look something like,
Martin Maldonado - Maldy will be a strong back up catcher who forms a nice 1 2 punch behind the dish with Lucroy.
Jeff Bianchi - Bianchi provides a solid glove at short, 2nd, and 3rd base though his bat leaves a little to be desired.
Logan Schafer - Schafer is ready to be our 4th outfielder, playing good defense at all three spots, and providing good speed and solid contact off the bench.
Mat Gamel - Gamel will likely end up the back up corner guy, both outfield and infield. A lot will depend on whether the Brewers think that Schafer and Gamel will be enough for the outfield. If not...
Caleb Gindl or Khris Davis could turns hot spring into a spot on the bench
. If

not,
Taylor Green could be the primary pinch hitter off the bench while also backing up 3rd and 1st base.
Doing nothing with bullpen or bench would be a shame and handicap an otherwise strong team. Here's to hoping Doug makes a move or two.
Until next time, Beers, Brats, and Championships. (T

hanks for reading, and go Crew!)
-Ryan Garcia (@ryan_937)
Follow us on Twitter for up to date news on Brewers, Packers, Badgers, Bucks and more. Live in game commentary, breaking news, previews, and post game discussion. @WISportsBlog @AndrewVrchota, @JoeP_Norton, @Brandon_BFP, @SMahon2Go @ryan_937, @Mik3_Schu. Finally, find us on Instagram! (wisportsblog)