In light of the magical ride to cap off the regular season, the 2012 season will be remembered as the year the Brewers bullpen couldn't preserve a lead if our life depended on it. On paper the combination of Axford and Rodriguez was groundbreaking, much like what we saw in 2011. So to have that same duo for a full season spoke volumes of the potential greatness our pitching could have accomplished. But, as we know, the exact opposite occurred. The Brewers blew a league worst 29 saves out of 73 save opportunities which resulted in a 60 percent save percentage, which was second worst in the MLB. Furthermore, the bullpen pitched in all 162 games in 2012, to which they accumulated the worst earned run average in all of baseball, a 4.66 ERA.
Coming into this offseason, it was all but inevitable that Doug Melvin planned to clean house on our bullpen. As a result, John Axford, Jim Henderson, and Brandon Kintzler were the only three left after the dust settled. Kameron Loe, Jose Veras, Livan Hernandez, and Francisco Rodriguez all elected free agency after the Brewers optioned them off the 40 man roster. A month later, the Brewers decided to non-tender Manny Parra, thus making him a free agent as well.
During the winter meetings in Nashville, it became apparent that the Brewers would not be making huge offers to top free agent relief pitchers. However, it came at no surprise. The Brewers had been linked to names like Sean Burnett, Jason Grilli, Kyle Farnsworth, J.P. Howell, and others throughout, though none of the rumors were strong enough and they eventually signed elsewhere. Melvin's game plan was to sign relief arms to inexpensive deals and not go over the 2 year mark on contracts. That turned out to be a difficult offer to make free agents interested in our team, as many middle to high level relief pitchers were signing for 3 years and making 5 to 6 million dollars annually. Even with the strict standards Melvin had, he was able to walk out and head into spring with a very formidable, revamped bullpen.
Photo: NBC Sports
Closer - John Axford
- Not that this should be a surprise to anyone, but John Axford will be our closer in 2013. Let's not be so quick to forget his mere dominance in 2011 before we jump right into his off 2012. Mentally, John was not 100 percent last season. I'm not here to make excuses as to why, but I am confident when I say that I believe it was nothing more than a minor hiccup in his progress as being one of the league's best closers. If John can stay away from worrying about what the fans are saying to him via his Twitter account, and focus more on pitching a smart game of baseball, we will have nothing to worry about.
Set-up - Jim Henderson (replacing Fransisco Rodriguez)
- Although Henderson all but replaced Rodriguez in the middle of the season as the set-up man, it will take full effect this year as we reestablish our pen. Henderson is not only a really great pitcher, but Jim is just a good story to tell. After spending 10 years in the minor leagues with 3 different organizations, Jim finally got the call last year for the Brewers and pitched in his first big league game. Henderson finished last season with a 1-3 record, 3.52 ERA, 45 strikeouts, and 13 walks over 30 2/3 innings. He had a team low 0.3 HR/9IP. Not a bad start to his major league career. A bigger upside to him is that we have team control until 2019.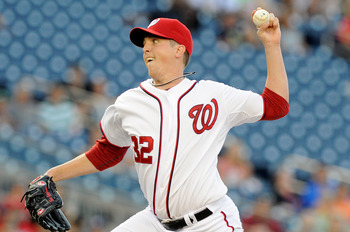 Innings eater - Tom Gorzelanny (replacing Livan Hernandez)
- The Brewers signed free-agent left-hander Tom Gorzelanny to a two-year contract in mid-December. The Nationals non-tendered Gorzelanny in November instead of offering him arbitration. At 30 years old, Gorzelanny, 30, joins a Brewers pitching staff that previously lacked left-handed pitching. Other than left-handed starter Chris Narveson, the Brewers didn't have an established lefty on their pitching staff after non-tendering Manny Parra. Gorzelanny appeared in 45 games for the Nationals this past season, posting a 2.88 ERA with 7.8 K/9, 3.8 BB/9 and a 42.9% ground ball rate in 72 innings. The eight-year MLB veteran started 23 games for the Cubs in 2010 and 15 games for the Nationals in 2011, before making one spot start in 2012. So with his starting experience, you'd have to assume he will be the guy Ron Roenicke goes to in case one of his starters has a rough outing in addition to seeing some LOOGy (Lefty Only One-Out Guy) opportunities as well. In all honesty, though, I could see the Brewers using Tom in any situation other than closing or set-up.
Lefty specialist - Mike Gonzalez (replacing Manny Parra)
- As I wrote and somewhat predicted in a previous blog, Mike Gonzalez will be our primary LOOGy pitcher for 2012. The Brewers signed Gonzalez to a one-year deal a few days ago. The deal the 34 year old signed is worth roughly 2.25 million dollars, plus incentives. Gonzalez pitched a 3.03 ERA with 9.8 K/9 and 4.0 BB/9 in 35 2/3 innings for the Nationals last season after. He held left-handed batters to a .179 ERA, .257 OBP, and .269 SLG% batting line with 23 strikeouts in 75 plate appearances. Compared to Manny Parra, all of Mike's stats are leaps and bounds better. In other words, Pedro Alvarez will never get another hit off of Brewers' relievers again.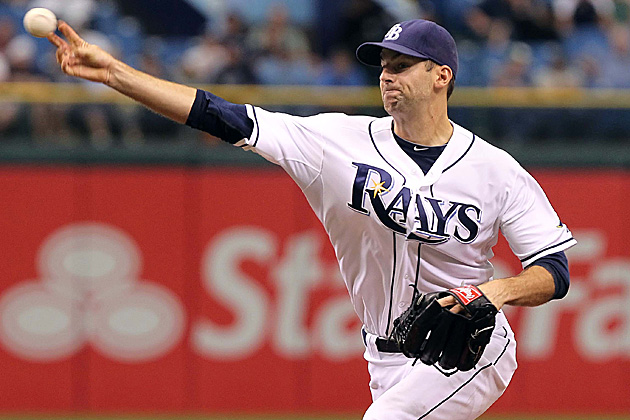 Photo: CBS Sports
Righty specialist / Groundball guy - Burke Badenhop (replacing Kameron Loe)
- I've read a lot about how people didn't quite understand why we would get a guy like Burke when Loe is essentially the same pitcher. In a sense, people are right. They are pretty much the same. However, the philosophy Doug Melvin (I assume) has behind it is quite simple to understand. If you're going to rebuild something, don't use the old pieces for your new structure. Loe wasn't especially good in 2011, and he sure wasn't good in 2012. The Brewers acquired the 29 year old right-hander from the Rays for Raul Mondesi Jr. You'll all remember Raul as the young man who hit a walk-off home run last year for the Helena Brewers but forgot to touch home plate, thus resulting in an out, and a loss for his team. Anyways, Burke pitched a 3.03 ERA with 6.1 K/9 and 1.7 BB/9 in 62 1/3 innings for the Rays last season. He does an acceptable job at generating ground balls (52.9%) and keeping right-handed batters in control (.239/.260/.350). Lefties on the other hand give him a tough time (.300/.356/.488). He has everything written on the walls to be a much better ROOGy (Righty Only One-Out Guy) than Loe was.
7th inning / "We're getting blown out" guy - Brandon Kintzler (replacing Jose Veras)
- We didn't see much of Brandon last year, as he was a late call up when rosters expanded in September. In 14 games, Kintzler pitched his way to a 3-0 record, a 3.78 ERA, 0.5 HR/9, 3.8 BB/9, and a 7.2 SO/9 over 16 2/3 innings. Out of all the pitchers in our bullpen, Kintzler is tied with Badenhop for the lowest games-entering Leverage Index (gmLI). Long story short, it's a statistic of the level of pressure situations a relief pitcher encounters throughout the season. To better understand it, try this link:
Get To Know: Leverage Index
. Back on track, I don't see Kintzler having a specific role in our pen, especially in any where the game would be on the line, but his arm is much needed and desired. I liked what I saw last year from him. A good spring will help me be reassured of that.
Non-save 9th inning guy - Too be determined -
I honestly can't say for sure just because anything could happen in spring training. There are a handful of guys that I could see making this final spot. Anyone from
Fautino De Los Santos
to Zach Kroenke or
Jairo Asencio to Travis Webb or
Arcenio Leon to Tyler Thornburg could make it in all honesty. However, if I had to put money on the last spot in the bullpen, I'd go with 6'7", 245 lb, 25 year old Michael Olmsted.
Mike pitched a 1.52 ERA with 14.0 K/9 and 2.3 BB/9 in 59 1/3 relief innings between Double-A and Triple-A in the Red Sox's system last year. The Brewers signed the right-handed minor league free agent and placed him on the 40-man roster back in early November after the Red Sox failed to make room for him onto their 40-man roster.
Lets make one thing clear. I don't care how our bullpen pitches this season. I really don't. I do however know that it will not amount to how bad it was last year. This bullpen has a lot going for it, a lot of promise, and definitely a lot of potential to be very good in 2013. They are good baseball minds. None of them (that I know how) have had clubhouse issues. If all goes well, the Brewers could have a well oiled bullpen who will yield a lot less blown saves this coming season.
(Stats courtesy of Baseball-Reference.com and MLBTradeRumors.com. Link courtesy of Fangraphs.com)
Until next time, Beers, Brats, and Championships.

-Andrew Vrchota (@AndrewVrchota)

Follow us on Twitter for up to date news on Brewers, Packers, Badgers, Bucks and more. Live in game commentary, breaking news, previews, and post game discussion. @WISportsBlog @AndrewVrchota, @JoeP_Norton, @Brandon_BFP, @SMahon2Go @ryan_937, @Mik3_Schu. Finally, find us on Instagram! (wisportsblog)