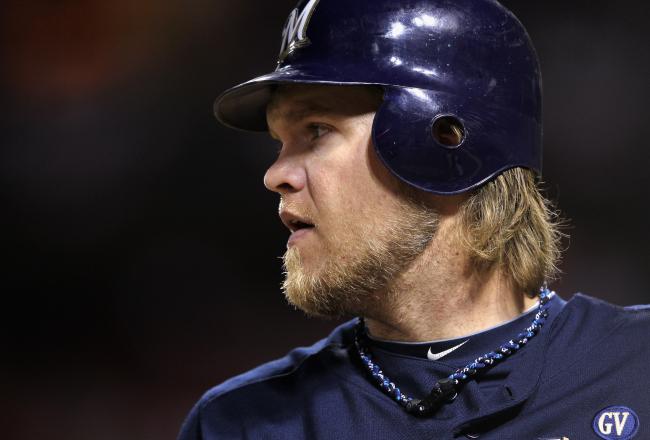 Photo: BleacherReport.com
Today it was announced that outfielder converted first baseman Corey Hart will be undergoing knee surgery on January 22nd and will be out for approximately 3-4 months, or about 6 weeks if you're looking at our schedule. Initially, this news really bugged me out and I was already concerned for our 2013 season. But, after taking a few deep breaths I was actually alright with it. Don't get me wrong, it's unfortunate and potentially could hurt the team depth wise in the beginning, but production wise I don't think there will be a difference that early in the year, too be honest.
As easily as I can, I want to buckle down and hopefully show that having Gamel in the lineup isn't a bad thing and could potentially benefit the Brewers in the long run. I will also take a look at a few other options the Brewers have at first base other than Mat Gamel, which I can tell you right now isn't much. Fear not, Brewer Nation. Everything is going to be already without Hart for a few weeks to start the season. Here's why...
We will first go with some semi-arbitrary statistical projections for each party, starting with Mat Gamel. According to Bill James of FanGraphs Baseball, Mat Gamel is now projected to bat .287/.351/.473/.824 with 65 R/17 HR/72 RBI/42 BB (8.7 BB%)/91 SO (18.8 K%) and a total of 127 hits in 442 at bats in 114 games plays. On the other hand, Corey Hart was originally projected for playing in 150 games. We know that isn't going to happen. So, taking off the 6 weeks he's guaranteed to miss plus other days off he will receive for rest, I'll say he'll play in around 100 games this year (not accounting for pinch hits etc.), or 1/3 of what he was expected to play. After taking Hart's projected stats and taking 1/3 off of each appropriate stat, these numbers may surprise you. Hart would still be rightfully projected as a .270/.330/.490/.820 hitter for sure, but here is where things get interesting. Hart would be projected at 60 R/18 HR/62 RBI/32 BB (8.3 BB%)/96 SO (25.0 K%) and a total of 104 hits in 384 at bats in 100 games. Now, granted the projections for Gamel could be way off with the amount of games he plays, but with his ability to play corner infield and outfield spots, he may see more opportunities in 2013, especially with a scarce lefty line-up the Brewers have.
Photo: Fansedge.com
As far as other options the Brewers have at first base, there really isn't too much to chose from. Taylor Green would serve the same purpose as Gamel, though Gamel would produce more than Green. You don't want to interrupt Hunter Morris' minor league progression path by having him up on the main roster for 6 weeks and then optioning him down to Nashville. Moving Aramis Ramirez over to first base is not an option, however moving back-up catcher Martin Maldonado is. Free agency is absolutely picked to the bone of free agent first basemen, unless anyone wants a 42 year old Jason Giambi or a blast from the past Carlos Lee. Casey Kotchman or Lyle Overbay would be alright with me, but the deals would have to be dirt cheap because the understanding would be "Look guys, you're going to be playing first base for about 6-7 weeks, and then after that we're likely to release you.". And I don't see trading for a first baseman is logical, either. Looking over these options, giving Mat Gamel one last chance to shine is our only sensible option on the table.
Benefits, you ask? In the event Gamel lights up the majors like a Christmas tree and there are no set-backs with Corey Hart come June-July, you have the option of putting Mat Gamel out on a hook to see what kind of fish bite. By fish, I mean a contending team looking for a power hitting left handed utility guy such as Mat Gamel. Granted, the return on Mat wouldn't be much; not even close to Zack Greinke. But, I could see the Brewers swapping Mat Gamel in return for a prospect pitcher or infielder. Or, vise versa, Gamel still lights up the majors, but Corey shows that he's playing well too. Mark Attanasio and Doug Melvin decide they want to save a few dollars, they could end up putting Corey Hart on that fishing hook barring any setbacks with his knee. The return on Corey Hart would be much larger than Gamel, hands down. But, with this second knee surgery in as many years, a red flag will pop up for many teams.
In the ever classic song by Journey "I'll Be Alright Without You", a line from the chorus reads "I'll be alright without you - there'll be someone else, I keep tellin' myself". We will be fine without Corey Hart. Someone will be playing first base for the Brewers on opening day. And, if he has a great spring coming back from his ACL injury in 2012, I can comfortably say it that person will be Mat Gamel.
Until next time, Beers, Brats, and Championships.

-Andrew Vrchota (@AndrewVrchota)

Follow us on Twitter for up to date news on Brewers, Packers, Badgers, Bucks and more. Live in game commentary, breaking news, previews, and post game discussion. @WISportsBlog @AndrewVrchota, @JoeP_Norton, @Brandon_BFP, @SMahon2Go @ryan_937, @Mik3_Schu. Finally, find us on Instagram! (wisportsblog)