It all stated on April 26, 2006, when Charles Woodson and the Green Bay Packers reached a 7-year contract agreement that could be worth as much as $52.7 million with bonuses and incentives. The Charles Woodson Era in Green Bay was born. In the 7-year tenure Woodson had at Green Bay, he actually put up more numbers then he did during his 8-year tenure in Oakland. 38 of his 55 interceptions, 9 of his 11 interceptions returned for touchdowns, 6 of his 11 forced fumbles, and 11.5 of his 17 sacks all happened with the Green Bay Packers.
With the NFL draft being 69 days away, Ted Thompson and the Green Bay Packers made their first big move of the offseason as they released defensive back and future NFL Hall of Famer, Charles Woodson. In his apparent final season with Green Bay, Woodson broke his collarbone against the Rams this year and missed the rest of the regular season before returning for the first round of the playoffs for Green Bay. If this is Woodson's ride into the sunset, he will finish his 15-year career with 55 interceptions, 12 touchdowns, 17.0 sacks, and 24 forced fumbles.
This move should really come at no surprise as Green Bay was looking to make some cap space heading into the offseason. With the release of Woodson, the Packers will indeed free up about ten million dollars in their salary cap. As great as he was, a declining Charles Woodson is not worth that kind of money. In his first six seasons with Green Bay, Woodson only missed three games. Last season, Woodson missed nine of the sixteen games do to injuries.
Charles Woodson is arguably one of the best, if not the best, defensive backs of all-time in the NFL. The list of Woodson's accomplishments are endless. He's an 8-time Pro Bowler, 7-time All-Pro, Super Bowl Champion, AP NFL Defensive Player of the Year, NFC Defensive Player of the Year, AP NFL Defensive Rookie of the Year, Heisman Trophy Winner, an NCAA National Champion, the list goes on and on. Those awards of recognition of him as an athlete don't even touch on Charles outside of the game of football.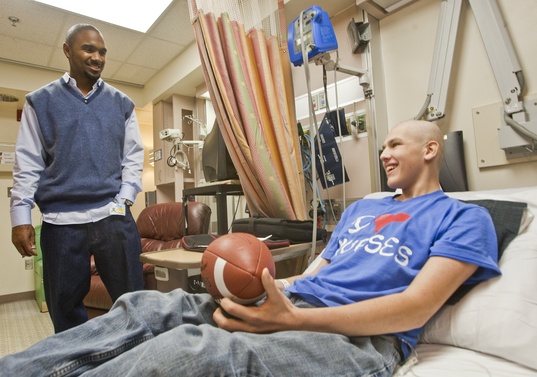 Charles Woodson visiting a patient at the

University of Michigan C.S. Mott Children's Hospital.
Back in November of 2009, Charles donated $2.0 million dollars to the University of Michigan's Children's Hospital for research purposes. Woodson also has his own Foundation (Charles Woodson Foundation) that helps the continuous battle against breast cancer. Woodson willingly issues a yearly academic scholarship to an incoming Kinesiology freshman who has financial need and shows outstanding promise in Kinesiology. Woodson also hosts golf outings funded by his charity and all proceeds, of course, go to cancer research. In 2012, Woodson donated $100,000 to the Hurricane Sandy storm relief fund.
Here are some of Charles Woodson's most memorable quotes during his time with the Packers:
"Everybody wants to be a hero, so to speak. But it takes everybody. Those four downs, it was somebody different on those four plays. It was a team effort."

"

It's the same old Jay. We don't need luck, Jay will throw us the ball...proof is in the pudding."

"Hey, we gotta think about one thing. One. For two weeks, think about one. Let's be one mind. Let's be one heartbeat. One purpose. One goal. One more game. One....let's get it. Hey check this...the President don't wanna come watch us to the Super Bowl? Guess what? WE'LL GO SEE HIM!"
It's not too often a football team, or any sports team for that matter can lose a player that means just as much on the field as they do off the field. Unfortunately, for the Green Bay Packers, that has happened now twice this offseason. First, Donald Driver announcing his retirement, and now Charles Woodson being released. Just like Driver, it was an absolute honor for Woodson to grace Lambeau's field and he will always be one of my favorite Packers to even put a jersey on for us. And, much like Driver, if Woodson calls it a career this offseason, he and Driver will be in Canton, Ohio in five years.
Until next time, Beers, Brats, and Championships.

-Andrew Vrchota (@AndrewVrchota)

Follow us on Twitter for up to date news on Brewers, Packers, Badgers, Bucks and more. Live in game commentary, breaking news, previews, and post game discussion. @WISportsBlog @AndrewVrchota, @JoeP_Norton, @Brandon_BFP, @SMahon2Go @ryan_937, @Mik3_Schu. Finally, find us on Instagram! (wisportsblog)