Los Angeles Angels of Anaheim
Key Additions
- Josh Hamilton, OF: 5years/$125MM, Sean Burnett, RP: 2years/$8MM, Joe Blanton, SP: 2years/$15MM, Ryan Madson, RP: 1year/$3.5MM.
Key Losses
- Zack Greinke, Dan Haren, Ervin Santana, Jordan Walden, Kendrys Morales, Torii Hunter, Maicer Izturis, LaTroy Hawkins
Key Trades
- Acquired SP Jason Vargas from Mariners for 1B Kendrys Morales. Acquired SP Tommy Hanson from Braves for RP Jordan Walden. Acquired P Brandon Sisk from Royals for SP Ervin Santana. Acquired OF Exicardo Cayones and RP Kramer Sneed from Yankees for OF Vernon Wells.
When it comes to the Angels' offense this season, I don't think they will have any issues scoring runs. They were deadly last year, and now they have Josh Hamilton. If healthy, the Angels potentially have four 30+ homerun hitters in their lineup which is absolutely insane. A guy to watch this year that will more than likely be overshadowed due to the main stars of the team is Peter Bourjos. He's slated to take the helm in centerfield full time with the departure of Torii Hunter and Vernon Wells. Bill James of Fangraphs projects Peter at .262, 13 HR, 88 R, 57 RBI, 24 SB, .315 BABIP, and 69.8 wRC with a WAR floating around 3. He will likely bat in the 9-hole this year for the Angels, which could do wonders for his production. If he gets on base on a regular basis this year, he will have no problems stealing bags and scoring runs with Mike Trout, Albert Pujols and Josh Hamilton at the top of that order.
With what the Angels got in pitching is what they lost in pitching. Losing Zack Greinke, Ervin Santana, and Dan Haren put a gaping hole in their rotation. They did go out and acquire physical replacements, but they did not acquire offsets for the production lost. Tommy Hanson and Jason Vargas will serve as the number three and for pitchers in the rotation behind Jered Weaver and C.J. Wilson. Joe Blanton will top out the back end of the rotation. As for the bullpen, it looks very good. Ryan Madson will be starting the year out on the DL as he is still recovering from Tommy John's surgery. Ernesto Frieri will serve as the closer until Madson is healthy. Sean Burnett and Scott Downs are also really good. Garrett Richards could fill in as a starter in the rotation if anyone gets injured.
The spotlight will be all over Mike Trout as he enters his sophomore year in the Bigs. Their rotation is really good all things considered, but the offense will clean up any spills the pitching staff creates.
Projected Roster
Catcher:
Chris Iannetta, Chris Snyder
First Base:
Albert Pujols
Second Base:
Howard Kendrick
Third Base:
Alberto Callaspo
Shortstop:
Erick Aybar
Outfield:
Mike Trout, Josh Hamilton, Peter Bourjos, Kole Calhoun
Utility:
Mark Trumbo, Luis Rodriguez, Andrew Romine
Starting Pitchers:
Jered Weaver, C.J. Wilson, Jason Vargas, Tommy Hanson, Joe Blanton
Relief Pitchers:
Ryan Madson (DL), Ernesto Frieri, Sean Burnett, Kevin Jepsen, Scott Downs, Garrett Richards, Jerome Williams.
Texas Rangers
Key Additions
- Lance Berkman, 1B: 1year/$10MM, Jason Frasor, RP: 1year/$1.5MM, A.J. Pierzynski, C: 1year/$7.5MM, Joakim Soria, RP: 2years/$8MM, Geovany Soto, C: 1year/$2.75MM.
Key Losses
- Mike Napoli, Michael Young, Josh Hamilton, Mike Adams, Ryan Dempster, Scott Feldman, Koji Uehara.
Key Trades
- Acquired P Josh Lindblom and P Lisalverto Bonilla from Phillies for IF Michael Young.
The Rangers had arguably one of the worst off-seasons of any team in Major League Baseball. They lost a lot of nucleus players that made that team successful. I'm not excited about this team at all this year. It seems like it's just one of those homework assignments from high school that you threw together in study hall before you had to turn it in next hour. Their front office failed to pull the trigger on replacing anyone they lost to free agency.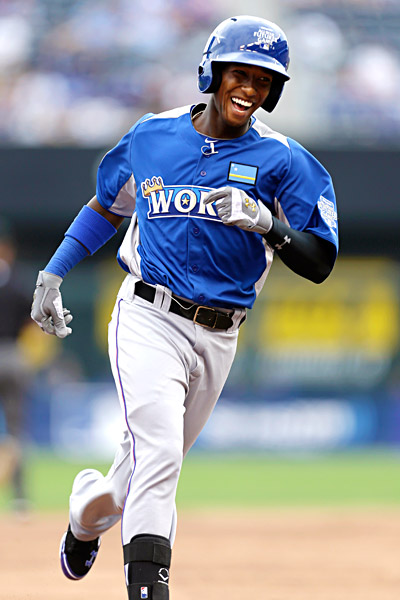 That being said, they still have a competitive team because of a strong minor league system. Their core of Kinsler, Andrus, Beltre and Cruz is very good. The addition of A.J. Pierzynski at catcher gives them pretty much the same player they lost in Mike Napoli. If Lance Berkman doesn't fall apart, he will give them a nice bat in the middle of the order. The Rangers will give a few prospect outfielders a look to start out the year with Leonys Martin and Craig Gentry in a platoon for center field. Speaking of prospects, Jurickson Profar and Mike Olt are starting out in Triple-A but are major league ready at a moment's notice with any injury to the infield. As noted before, the health of Lance Berkman will determine when those two are called up.
Starting pitching is going to be in the spotlight when the season starts. They have a solid four-man rotation in Harrison, Darvish, Holland, and Ogando. The problem for the Rangers is that all of their options for the fifth man in the rotation are going to start the year of the DL. Martin Perez is out until May, Colby Lewis in out until June, and Neftali Feliz will likely be out way past the All-Star break. The Rangers are likely to go with Nick Tepesch as their 5th starter until Perez is back in May. Aside of Joe Nathan, Jason Frasor, and Robbie Ross, the Rangers bullpen looks very weak. Joakim Soria will be a nice addition when he comes off the DL in May. Lots of questions for the Rangers heading into the season.
Projected Roster
Catcher:
A.J. Pierzynski, Geovany Soto
First Base:
Mitch Moreland
Second Base:
Ian Kinsler
Third Base:
Adrian Beltre
Shortstop:
Elvis Andrus
Outfield:
Nelson Cruz, Leonys Martin, David Murphy, Chris Gentry, Julio Borbon
Utility:
Jeff Baker, Leury Garcia
Starting Pitchers:
Matt Harrison, Yu Darvish, Derek Holland, Alexi Ogando, Martin Perez (DL)
Relief Pitchers:
Joe Nathan, Jason Frasor, Robbie Ross, Joakim Soria (DL), Joseph Ortiz, Michael Kirkman, Derek Lowe
Oakland Athletics
Key Additions
- Bartolo Colon, SP: 1year/$3MM, Grant Balfour, RP: 1year/$4.5MM.
Key Losses
- Jonny Gomes, Cliff Pennington, Stephen Drew, Brandon Inge, George Kottaras, Chris Carter, Yordy Cabrera, Brandon Hicks, A.J. Cole, Graham Godfrey, Brandon McCarthy, Brad Peacock, Sandy Rosario.
Key Trades -
Acquired SS Jed Lowrie and RP Fernando Rodriguez for 1B Chris Carter, SP Brad Peacock and C Max Stassi. Acquired C John Jaso in a three-way deal for P A.J. Cole, P Blake Treinen and P Ian Krol. Acquired OF Jefry Marte from Mets for OF Collin Cowgill. Acquired IF Andy Parrino and P Andrew Werner from Padres for P Tyson Ross and IF A.J. Kirby-Jones. Acquired OF Chris Young in a three-way deal for IF Cliff Pennington and IF Yordy Cabrera.
You think the A's were exciting last year? Just wait for what they do this year. Lew Wolff and Billy Beane do an outstanding job out there in Oakland and have done well again this offseason. They lost a lot, but replenished. The Athletics needed to add a middle infielder this offseason after a combination of losing Stephen Drew and having Jemile Weeks having a miserable rookie season. The free agent market for middle infield was very shallow this year, so hey made a trade with the Houston Astros by acquiring Jed Lowrie, whom they wanted badly on previous occasions.
The A's outfield looks really fun. They'll have Josh Reddick, Coco Crisp, Yoenis Cespedes, and Chris Young out there, which is really one of the more underrated outfield groups in all of baseball. They have a very clean and crisp lineup from top to bottom. Scott Sizemore should be back at second base after getting injured early last year. The A's are one of the deepest teams in all of baseball when it comes to infielders. I would actually say only the Rays have more depth. Lowrie can play all four positions, Hiroyuki Nakajima was added this offseason as a short stop option. Sizemore can play second or third. I can't stress enough their amazing depth.
As far as pitching, they always have great young arms who wind up on other teams years after they debut. This group is no different. Brett Anderson, Jarrod Parker, Tommy Milone, and A.J. Griffin are some of the best young arms in the game and will make or break the A's successes in 2013. Their bullpen is decent, but has holes. They shocked the baseball world last season by winning the AL West. Who knows what they'll do this year.
Projected Roster
Catcher:
John Jaso, Derek Norris
First Base:
Brandon Moss
Second Base:
Eric Sogard
Third Base:
Josh Donaldson
Shortstop:
Jed Lowrie, Hiroyuki Nakajima (DL)
Outfield:
Coco Crisp, Josh Reddick, Yoenis Cespedes, Chris Young
Utility:
Scott Sizmore, Seth Smith
Starting Pitchers:
Brett Anderson, Jarrod Parker, Tommy Milone, A.J. Griffin, Dan Straily
Relief Pitchers:
Grant Balfour, Ryan Cook, Sean Doolittle, Pat Neshek, Jerry Blevins, Evan Scribner, Chris Resop
Seattle Mariners
Key Additions
-
Joe Saunders, SP: 1year/$7MM, Kelly Shoppach, C: 1year/$1.5MM, Raul Ibanez, OF: 1/year/$2.75MM, Oliver Perez, SP: 1year/$1.5MM, Jason Bay, OF: 1year/$1MM.
Key Losses
- John Jaso, Miguel Olivo, Mike Carp, Scott Cousins, Shawn Kelley, George Sherrill, Jason Vargas.
Key Trades
- Acquired OF Abraham Almonte from Yankees for P Shawn Kelley. Acquired OF Mike Morse in a three-way deal for C John Jaso. Acquired IF Kendrys Morales from Angels for SP Jason Vargas. Acquired UT Robert Andino from Orioles for OF Trayvon Robinson.
I'm going to start out by saying this: Don't sleep on the Mariners this year. If you are a Mariners fan, you have a lot to be excited about this year. I really like the moves they made this offseason minus the Jason Bay signing, but I understand the low risk high reward aspect of it.
The Mariners have lacked consistent power in their lineup for a long time now, and now they have it. Michael Morse and Kendrys Morales are going to provide a combined 60 homeruns this year, maybe even more. In addition to them, the Mariners also bring the developing power strokes of Jesus Montero, Kyle Seager, Justin Smoak, and Michael Saunders into play to form a pretty good lineup. Scoring runs shouldn't be a problem for them. Also to note, I really like Dustin Ackley.
Pitching is another story. Lots of red flags. Lots of questions. Will Felix live up to the contract and stay healthy? I really like Felix. I also like Iwakuma as their number two. Saunders couldn't pitch himself out of a paper bag. Blake Beaven will come along this year. And look out for rookie Brandon Maurer. He will be someone to keep an eye on this year. He could end up being one of the best starters in the AL this year. Their bullpen is a sinking ship. Kameron Loe is part of it. Oliver Perez and Tom Wilhelmsen will shine.
Projected Roster
Catcher:
Jesus Montero, Kelly Shoppach
First Base:
Justin Smoak
Second Base:
Dustin Ackley
Third Base:
Kyle Seager
Shortstop:
Brendan Ryan
Outfield:
Michael Saunders, Michael Morse, Franklin Gutierrez, Jason Bay, Raul Ibanez
Utility:
Robert Andino, Kendrys Morales
Starting Pitchers:
Felix Hernandez, Hisashi Iwakuma, Joe Saunders, Brandon Maurer, Blake Beavan
Relief Pitchers:
Tom Wilhelmsen, Carter Capps, Charlie Furbush, Stephen Pryor, Oliver Perez, Lucas Luetge, Kameron Loe
Houston Astros
Projected Roster
Catcher:
Jason Castro, Carlos Corporan
First Base:
Brett Wallace, Carlos Pena
Second Base:
Jose Altuve
Third Base:
Matt Dominguez
Shortstop:
Ronny Cedeno
Outfield:
Chris Carter, Justin Maxwell, Brandon Barnes, Rick Ankiel, J.D. Martinez
Utility:
Marwin Gonzalez
Starting Pitchers:
Bud Norris, Lucas Harrell, Philip Humber, Brad Peacock, Erik Bedard
Relief Pitchers:
Jose Veras, Wesley Wright, Hector Ambriz, Xavier Cedeno, Josh Fields, Rhiner Cruz, Edgar Gonzalez
Projected Standings
Los Angeles Angels (94-68, first place, AL West Champions)
Seattle Mariners (87-75, second place)
Oakland Athletics (86-76, third place)
Texas Rangers (83-79, fourth place)
Houston Astros (55-107, fifth place)
Until next time, Beers, Brats, and Championships.

-
Andrew Vrchota (
@AndrewVrchota
)
Follow us on Twitter for up to date news on Brewers, Packers, Badgers, Bucks and more. Live in game commentary, breaking news, previews, and post game discussion. @WISportsBlog @AndrewVrchota, @JoeP_Norton, @SMahon2Go @ryan_937, @Mik3_Schu,
@jheldred, @B_Toom_3, @olewr7, and @Stevie2Westside. Finally, find us on Instagram! (wisportsblog)