We are less than two days away from the NFL Draft. It's a very exciting moment for football fans as they see their teams draft players that could potentially fix holes, patch problems, replace old parts, and strike gold with the next MVP. I've previously completed four other Mock Drafts for the Green Bay Packers, profiling potential picks the Packers could be looking at. After studying the college talent pool, here is what I have come up with for the Packers and what you can expect starting this Thursday night. But first, take a look at the previous mock drafts before reading this article (recommended).
Packers Mock Draft 1.0
Packers Mock Draft 2.0
Packers Mock Draft 3.0
Packers Mock Draft 4.0
To start this very detailed Mock Draft, it's going to start out with a move that most Packer fans will not favor if it does end up happening. This move will only work if one major factor plays out, which could very well play out. That factor is Geno Smith.
The Packers have a lot of holes to fill and there really isn't anyone the Packers will want to take at the 26th pick in the first round. Taking a look at the draft order, there are three teams that could spoil this move, one of them being their potential trade partner. First, the New York Jets. Rex Ryan and the front office seem dead set on Mark Sanchez, however they could end up feeling the pressure from their fans and take Geno Smith to compete for the quarterback job. But, it's very unlikely they take him with either of their first round picks (9, 13). If you think the Jets have problems on offense, I won't even get into their defense. They need to replace Revis and someone develop a pass rush.
The second team that could rain on the Packers parade is the Buffalo Bills. The Bills will be taking a quarterback with the 8th overall pick and they could very well pick Geno Smith, except that he doesn't fit their offense well at all. The Bills run a West Coast offense, which is more appealing to quarterbacks on the board like Matt Barkley and Ryan Nassib. They could ignore that and still take Geno as the best QB on the board, but again it's unlikely.
The third and final team that could spoil things for Green Bay is the Philadelphia Eagles, who I have as the Packers trade partner. The Eagles have the 4th overall pick, but their quarterback need doesn't amount to taking one at the 4th pick. They have bigger holes to fill, like protecting their quarterback for example on the offensive line. But, I don't think that will stop the Eagles from getting a shot at Geno Smith. He would mess well with Chip Kelly's style of offense, and would be backup to Michael Vick which almost guarantees he'll get a few starts this season and eventually take over as the full time starter. Geno could easily fall out of the Top 10, heck even the Top 20 if it all plays right. (See: Alex Smith/Aaron Rodgers draft). All of the other teams drafting are very stable at the quarterback position. Let's take a look: (Teams are in order of the draft)
1. Alex Smith, Chiefs
2. Blaine Gabbert, Jaguars
3. Matt Flynn, Raiders
4. (Philadelphia Eagles)
5. Matthew Stafford, Lions
6. Brandon Weeden, Browns
7. Carson Palmer, Cardinals
8. (Buffalo Bills)
9. (New York Jets)
10. Jake Locker, Titans
11. Philip Rivers, Chargers
12. Ryan Tannehill, Dolphins
13. (New York Jets)
14. Cam Newton, Panthers
15. Drew Brees, Saints
16. Sam Bradford, Rams
17. Ben Roethlisberger, Steelers
18. Tony Romo, Cowboys
19. Eli Manning, Giants
20. Jay Cutler, Bears
21-25 are picks that are owned by the Cincinnati Bengals who have Andy Dalton, another pick by the Rams, two picks by the Vikings who have Christian Ponder, and one pick by the Colts who have Andrew Luck. This draft is not quarterback heavy, nor is the quarterback a big need currently in the NFL. Smith is a starter-quality quarterback, so being a backup isn't ideal for him.
So you see, Geno could fall hard in this draft, which is where we land with the Packers.......... and with the 26th pick, the Green Bay Packer elect to trade their first round pick to the Philadelphia Eagles for the Eagles' second and third round picks. And with that, here is the rest of the Packers Mock Draft.
Round 2 Pick 35 (from Eagles):
Bjoern Werner, DE, Florida State -
I said in the previous mock draft that the Packers would have no chance to get Bjoern Werner. Well, this trade with the Eagles makes it possible. The Packers are clearly going to focus on the defensive line in this draft. It was quite evident this offseason. They brought in Chris Canty and
Steve McLendon to meet with them, who unfortunately didn't strike a deal with Green Bay and signed elsewhere. The fact the Packers kicked some tires with defensive lineman shows it's a concern for them.
It wouldn't hurt the Packers to look for defensive line help. Jerel Worthy had knee surgery at the end of the season, Raji was a little banged up last year, and C.J. Wilson needs someone to compliment him better. Pass rush pass rush pass rush. When talking about Werner's figurative engine, he's got a Hemi. Great blocker and great instincts. He might be outsized a few times, but that happens with a lot of players.
Round 2 Pick 55: Cornelius Washington, DE/OLB, Georgia -
I can't even begin to tell you how much Washington's stock has risen in this draft class. When I first started looking at mock drafts back in January, Washington was maybe a 6th or 7th round pick, some even had him as a undrafted free agent. Then, in mid to late February, he started popping up as a 4th or 5th rounder. Finally, after his pro day he jumped up again. This time, he was being tossed in as a 2nd or 3rd round pick. He had the fastest 40 yard dash at the Combine for his position. Washington is listed as a defensive end, but would likely convert to an outside linebacker for Green Bay. Erik Walden is gone, and no one could be happier then me. What's even better is that horrid contract the Colts gave him. A.J Hawk's contract was restructured (cut in half) because of his rather high salary. Desmond Bishop and Nick Perry will be coming back from injury. Washington is another pass rusher, which is a need for the Packers as Clay Matthews needs someone to compliment him opposite of him.
Round 3 Pick 67 (from Eagles): J.J. Wilcox, S, Georgia Southern -
As I've said previously on Twitter and in blogs, the Packers have had a void in the defensive back field since losing Nick Collins a few years back. Charles Woodson was cut by the Packers this offseason. They will need to address this in the draft at some point, and I don't have a problem with them doing it here, especially with the extra pick thanks to the Eagles. The Packers should look for a versatile player who could play either corner or safety, but preferably safety to add depth to Jennings, Burnett, and McMillian. The Packers are said to be extremely high on Wilcox and will take him here if available. Wilcox has great instincts and reads offenses well. Attacks the line really well on running plays. He has good hops and great hand-eye coordination.
Round 3 Pick 88: David Quessenberry, G/C/OT, San Jose State -
If I had to say one of these picks would be a lock for the Packers, it would be David Quessenberry. According to multiple sources, the Packers have recently expressed major interest in drafting David. I've been a huge supporter of his since February. What he brings to the table is remarkable and exactly what the Packers need. The Packers had major problems at the offensive line after letting Scott Wells walk away, so they'll have to address that area in the draft. Evan Dietrich-Smith seems to be the center of the future for the Packers, but in case that doesn't turn out for Green Bay, Quessenberry is an option as he plays all three offensive line positions. The Packers need to beef up the tackle position this offseason as well. I'm not a big fan of Marshall Newhouse nor do I see him as a viable option at left tackle going into next season. There have been rumblings this offseason that the Packers are considering moving Brian Bulaga over to left tackle next season.
Round 4 Pick 122: Stepfan Taylor, RB, Stanford
- James Starks has yet to prove that he can stay healthy for a full season. Alex Green has done nothing with the opportunities sent his way. Cedric Benson and Ryan Grant will likely be gone after this offseason. Although DuJuan Harris was impressive down the stretch in his few games where he shined, I'm not sure if he is ready to take on a full starting workload. McCarthy said in an interview that Harris could be the starter, but it's his spot to earn in training camp. Still, the Packers may address the running back position early in the 2013 NFL Draft.
Taylor is a great running back prospect in this draft and is seriously underrated. He's a great ball catcher and has great down field awareness with great explosive legs. If the Packers want to fix their running game without wasting it on a high draft pick, Taylor is their man.
UPDATE (4/25):
Brandon Saine was released yesterday after failing his physical. Saine injured his knee last season vs. the Texans and was shut down due to it. With Saine gone, the Packers will need to add a running back for depth, even if they go about re-signing Cedric Benson. Training camp will make the cream rise to the top.
Round 5 Pick 159: A.J. Klein, ILB, Iowa State -
As the Packers need to add depth at outside linebacker, they also need to start thinking about inside linebacker as well. I'm not sure how long the Packers are going to have AJ Hawk. I don't mind him, but with all the injuries we had at linebacker last year it makes sense to add more depth. Ted Thompson likes Klein. Ted scouted him during the East-West Shrine game. Klein was a standout player and caught Ted's eye. The Packers would benefit with drafting Klein in the 5th round here, especially with another pick just 8 spots away.
UPDATE (4/25):
With the departure of D.J. Smith yesterday after he failed his physical, this pick makes a lot more sense now then it ever did before. Smith played only 6 games last season before injuring his knee. Desmond Bishop needs to prove he is healthy after his hamstring injury last year. Klein provides a nice safety net.
Round 5 Pick 167 (Compensatory):
Ace Sanders, WR/KR, South Carolina
- I think we all know the reasoning for this pick. Greg Jennings is with the Vikings. In addition, Donald Driver announced his retirement from the NFL and made it official February 6th, 2013. It looks like the Packers will need to look to add a wide receiver in the draft. The Packers have made it clear that Randall Cobb will not be returning kicks next year. Ace Sanders has elite speed and is said to be dangerous once he has the ball in his hands. For only being 5'7", he has good vision and sets up for blocks really well. Good hand-eye coordination and has really good hands. He isn't afraid to cut across to the middle of the field as he has good toughness and concentration. He would fit in well as our new kick returner as well as a number four or five wide out.
Round 6 Pick 193: Demetrius McCray, CB, Appalachian State -
With the exit of Charles Woodson and looking back on what I said earlier, the Packers need some depth when it comes to our defensive backs.
And, with news coming out from the Packers that Tramon Williams will have to potentially compete for a spot on next year's depth chart at cornerback, McCray would give Williams some good competition. McCray ran a 4.46 and jumped a 36" vertical at the NFL Combine. He has a knack for interceptions, having 10 in his college career. He's got great speed. Good on redirection and making good choices on routes.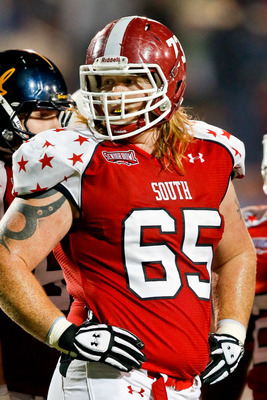 Round 7 Pick 232: Garrett Gilkey, OT, Chadron State -
Same reason to add Quessenberry. The Packers needs oodles of depth for lineman, as it is clearly the most vulnerable position on our team for the past couple of seasons. If we going to be paying Aaron Rodgers a sixth of our team's salary cap, we better put the right people in front of him to protect our investment. The Packers are set at the guard position with TJ Lang and Josh Sitton. The tackle position is the one that worries me a lot, so adding extra depth won't hurt us at all. Garrett Gilkey is 6 foot 6 inches tall and weight just over three hundred and twenty pounds. He's going to have to mature a bit to make it, but with his natural size and talent the Packers should be comfortable drafting him.
Until next time, Beers, Brats, and Championships.

- Andrew Vrchota (@AndrewVrchota)
Follow us on Twitter for up to date news on Brewers, Packers, Badgers, Bucks and more. Live in game commentary, breaking news, previews, and post game discussion. @WISportsBlog @AndrewVrchota, @JoeP_Norton, @SMahon2Go

,

@Mik3_Schu,
@jheldred, @olewr

7, and
@Stevie2Westside

. Finally, find us on Instagram! (wisportsblog)