UPDATE (6/19 at 10:58am) - Suspensions are likely in Biogenesis case.
Jon Heyman of CBS Sports has reported that people who have spoken with MLB investigators feel that it is likely that a few suspensions will be issued.
Major League Baseball has started interviewing players connected to the Biogenesis scandal. Alex Rodriguez or Ryan Braun have yet to be interviewed by the MLB because the league considers them "primary targets" and wants to be sure that they compile enough evidence against the pair before conducting the interviews.
Document recovered from the Biogenesis clinic with Alex
Rodriguez's name that indicate he was a client.
Jon Heyman also reports that the MLB will claim the Joint Drug Agreement legally allows them to issue suspensions prior to the appeals process, because the names involved have already been leaked. This would obviously be a large point of contention for the MLB Players Association, who will argue that suspensions cannot be issued or announced until a player has had the opportunity to appeal.
MLB is also interviewing Porter Fischer, the former Biogenesis employee who is responsible for leaking Biogenesis founder Tony Bosch's
notebooks and records to the Miami New Times
. MLB has reportedly interviewed Fischer three times now in an attempt to stockpile evidence. Heyman reminds that there are varying degrees of mentions in Fischer's documents; for example, Rodriguez's name allegedly appears alongside mentions of specific PEDs, while Braun's name only appears next to dollar amounts.
I guess the part that sticks out to me is the whole Porter Fischer mess that I linked in the paragraph above. To paraphrase what happened, Porter Fischer took records from Biogenesis after the clinic's owner, Tony Bosch, failed to repay him $4,000. MLB tried to buy records for $15,000. Many of the records have gone missing after they were stolen from Porter's car. Porter is getting death threats.
"The people running Major League Baseball are the biggest scumbags on Earth as far as I'm concerned. At this point, every bad guy out there knows exactly who I am. Why shouldn't everyone else know the story too?"
- Porter Fischer
UPDATE (6/6 at 12:18am):
Here is a statement from Alex Rodriguez on Biogenesis investigation:
"Myself and others are being mentioned in a media report before the process is even concluded I would hope this thing would follow the guidelines of our Basic Agreement. I will monitor the situation and comment when appropriate. As i have said previously, I am working out every day to get back on the field and help the Yankees win a championship. I am down here doing my job and working hard and will continue to do so until I'm back playing."
The most noteworthy piece of A-Rod's statement is when he brings up that fact that MLB squealed to ESPN, which is a violation of the Joint Drug Agreement's confidentiality rules. MLB got caught up in that same mess during the Ryan Braun appeal. And, we all know how that ended.
UPDATE (6/6 at 11:10am):
In addition to the A-Rod/Bosch news, the New York Daily News is also reporting that Ryan Braun may have only consulted Anthony Bosch while he played college ball for the University of Miami. If that is all they have on Braun, I don't see any way they could discipline him. MLB has nothing to do with the decisions he made in college. If anything, Braun could get hit with lying about only consulting Bosch during his appeal process. But, again, him consulting him in college has nothing to do with MLB. There has been no new evidence presented and MLB can't suspend him for something he already won an appeal on.
UPDATE (6/6 at 12:45am):
According to the New York Daily News, Anthony Bosch tried to get money from A-Rod to help pay his mounting legal bills, due in part to the frivolous lawsuit filed by Major League Baseball for tortious interference. A-Rod refused his request, so Bosch cut a deal with the MLB. In exchange for his cooperation, MLB will reportedly be dropping the lawsuit they filed against him earlier this year and paying his legal bills. (via Deadspin.com)
As if the integrity and credibility weren't at a low, this has to put everything at rock bottom. I don't see how the MLB will win this battle.
UPDATE (6/5 at 2:34pm):
MLBPA president Michael Weiner issued the following statement today:
"The Players Association has been in regular contact with the Commissioner's Office regarding the Biogenesis investigation. They are in the process of interviewing players, and every player has been or will be represented by an attorney from the Players Association. The Commissioner's Office has assured us that no decisions regarding discipline have been made or will be made until those interviews are completed. It would be unfortunate if anyone prejudged those investigations.
"The Players Association has every interest in both defending the rights of players and in defending the integrity of our joint program. We trust that the Commissioner's Office shares these interests."
Original Post:
The MLB is planning to suspend at least 20 players connected to Biogenesis, the Miami clinic under investigation for supplying performance-enhancing drugs, reports T.J. Quinn, Pedro Gomez and Mike Fish of ESPN's Outside The Lines.
According to a source of Bob Klapsich of the Bergen Record, besides Ryan Braun and Alex Rodriguez, "other major, major names" are also involved in the Biogenesis case.
A full list of the suspected names are: Alex Rodriguez, Ryan Braun, Melky Cabrera, Nelson Cruz, Bartolo Colon, Yasmani Grandal, Francisco Cervelli, Jesus Montero, Jhonny Peralta, Cesar Puello, Fernando Martinez, Everth Cabrera, Fautino de los Santos and Jordan Norberto. Other names have turned up on documents, but as of right now they are known under code names.
Previously, MLB officials also investigated a possible connection between Biogenesis and Yankees second baseman Robinson Cano, as the spokeswoman for Cano's foundation, Sonia Cruz, has had her name turn up in some clinic documents.
One name that has cleared is Nationals' pitcher Gio Gonzalez, who used the Biogenesis clinic to buy product that is not banned by Major League Baseball.
Biogenesis founder Tony Bosch has agreed to cooperate with the investigation and begin naming players, with suspensions possibly following within two weeks. Bosch is set to meet with MLB officials in New York City on Friday to begin sharing his information.
First things first. Cheating is bad. I don't endorse it. I don't like it. I don't support it. An even playing field makes sports fun. However, there is cheating not just in what one ingests or injects into their body. Especially in baseball. Stealing signs, corked bats, the use of pine tar that is not allowed, and pitchers using foreign substances for better grips and rotations all are just as illegal as taking a drug to give them the upper handed advantage.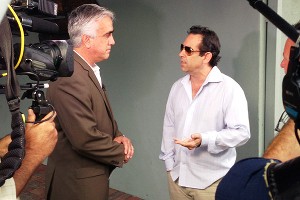 Photo: ESPN
Let me start here with the "credibility" of this whole situation. So, in an interview with Pedro Gomez, Tony Bosch said he didn't have any knowledge of suspected PED distribution at Biogenesis. But, now he has agreed to work with MLB to name names of guys he sold PEDs to? Not to mention MLB is suing Tony Bosch...(awkward)
The MLB will need to gather more information than just Bosch's testimony. The lawyers who represent the players will easily claim that Bosch's lack of credibility and that he is only naming names to avoid possible criminal prosecution and getting himself sued by the league and that will be that.
The original report on ESPN uses words and phrases like "if," "might," "possibly," "is expected to," and "corroborating evidence could prove difficult to come by." To me, that doesn't sound like MLB has all of their eggs in one basket. Not one bit.
First, to cover the basis for my Brewer fans who read my blog regularly, it's not known if Braun's name will be mentioned by Tony Bosch in regards to if Braun actually purchased PEDs from the clinic. It's all speculation at this point. Bosch mentioned a few months back that Braun only used him as a consultant during his appeal process, so there's that. But again, Bosch is about as credible as a butcher at a PETA event. It is believed that MLB is continuing to use Braun's name just because of his history.
Here is Braun's post game interview following the game in which the news came out. It was full of confidence and he didn't have a "Well, you caught me" vibe at all, which at least gives Brewer fans some reassurance. Here is the full post game interview:
MLB's integrity is quite possibly the most comical about this whole situation. A player can get a DUI and won't get suspended, let alone fined or get benched for a game, yet taking a banned substance gets you a 50 game suspension. A player can abuse his significant other physically or sexually and not get suspended or fined, yet a player's name on a piece of notebook paper could end up leading to a 100 game suspension. There's something terribly wrong with that mindset. Infact, to me it's 100% ass-backwards.
I understand rules are rules and there are no loopholes for them. However, we're in an era of baseball where performance enhancers are part of the game. They have been for almost 20-25 years. The 80's were all about drug use, too. Only back then it was all about the cocaine and heroine.
My point is that maybe instead of slapping the wrists of these players by dishing out these suspensions that they honestly don't care about, I think it's time for MLB to either A.) make these drug use regulations part of their contracts where if they fail their contracts are voided and they are jobless or B.) just allow steroids to be a part of the game. That's really the only way to get this stuff straightened out and to put an end to the bad press baseball has been building up for decades now. Financially, these players don't care about suspensions. And if you think they do, you're delirious. A lot of these players could retire today if that wanted to and could live comfortably for the rest of their lives. But, neither of those options I listed are likely to happen when they can't even figure out how to implement a proper instant replay system to fix the errors their umpires continuously make.
Finally, to defend a few of the players that are rumored to be on this list, what happens to the players who have already been disciplined by the MLB? You have guys like Bartolo Colon, Yasmani Grandal, and Melky Cabrera
who served 50 game suspensions last season for testing positive for PEDs. Shame on them for doing it, however all indications show they are clean now. I'm assuming previous offenders are more "on the radar" than non-offenders, you would think. Anyways, so MLB's plan is to suspend them again for already serving punishment for what they've done? I'm sorry, but that makes so sense to me at all. If I get a parking ticket for illegally parking and pay the fine, I don't get another ticket the next time I park legally just because of what I did the day before. Maybe that's a bad comparison, but I hope it gets my point across.
MLB is head hunting because they are frustrated with what the game has become, which is understandable. They are looking to make an example out of the these 20 players and anyone else in the future who turns up in the bad press of steroid use. We will find out in a few weeks time how they will handle this situation, but I have a feeling this is going to be a battle that will last a lot longer than the two week timetable MLB has on the board.
Until next time, Beers, Brats, and Championships.

-
Andrew Vrchota (@AndrewVrchota)
Follow us on Twitter for up to date news on Brewers, Packers, Badgers, Bucks and more. Live in game commentary, breaking news, previews, and post game discussion. @WISportsBlog @AndrewVrchota, @JoeP_Norton, @SMahon2Go

,

@Mik3_Schu,
@jheldred, @olewr

7, and
@Stevie2Westside

. Finally, find us on Instagram! (wisportsblog)