I hope everyone enjoyed my Round 1 write up from a few days ago. I'm now going to dive into Round 2 of the draft board and point out some key players that could help the Bucks rebuild and fill their holes in the backcourt. But first, a few news tidbits for the Bucks.
- Lester Conner, who was Larry Drew's main assistant coach in Atlanta, will likely be named as Drew's lead assistant in Milwaukee.
- The Bucks, who pick 15th and 43rd in the upcoming NBA Draft, are looking seriously at guards and small forwards.
- They're especially looking closely at German import Dennis Schroeder and Shane Larkin from Miami.
- Regardless if the Bucks bring back Redick, Ellis and/or Jennings, they're still looking to add depth to their backcourt.
-
Despite the recent report that suggests they prefer Ellis to Jennings, NBA officials would be pretty surprised if they let him walk without getting anything in return. Further, it's expected for him to be back in Milwaukee next season.
-
Herb Kohl is committed to keeping the Milwaukee Bucks from relocating by replacing the Bradley Center.
- Reports indicate PG/SG Jarrett Jack is unlikely to return the Golden State Warriors next season, who the Bucks could pursue in the offseason. (I have Jarrett Jack as part of the Bucks' offseason outlook post found here: http://wisportsblog.blogspot.com/2013/05/milwaukee-bucks-offseason-outlook.html

)
Round 2
Tony Snell, SF, New Mexico, 6-7, Jr.
- Now before we get too infatuated with Snell, let's all be honest with each other. With the way he's shooting up the draft boards in recent weeks, chances are he won't even be available when it's time for the Bucks to pick at number 43. But, before the hype ensues even more, let's take a look at Snell. He's a 42% shooter from the field and 39% from behind the arc. He averaged 12.5 points per game last year for the Lobos. Although his stats aren't overwhelming, he had a fantastic finish to his junior year, including making nearly 50% of his 3-point attempts over his last five games. Snell is a sharpshooter, and is a player the Bucks desire. If he were to drop to the Bucks in the second round, he's a great value pick and should be taken by Milwaukee.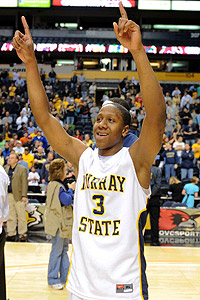 Isaiah Canaan, PG, Murray State, 6-1, Sr. -
Here's another prospect whose stock is rising by the day as the NBA Draft approaches. Canaan is another point guard the Bucks should really take a hard look at. He is also a very underrated prospect and could be a steal for the Bucks if they decide to draft a point guard in the 1st Round. Speaking of 1 Round, Isaiah has a chance to be drafted late in the 1st Round much like Snell. Canaan averaged just over 21 points per game for Murray State in his senior year. He had 3 rebounds and 4.5 assists to go along with that. In his most impressive game from last year, Canaan scored 35 points in a double overtime win vs. Morehead State. He shot 50% from the field (10-20), including 41% from behind the arc (5-12). He also shot 91% from the free throw line (10-11). Canaan also had an impressive game in an overtime loss to Belmont as he was one rebound shy of having a triple double (22-10-9). Cannon showed sparks last year and could really turn into someone special for anyone's backcourt. The Bucks need to take a long look here. He has received some NBA comparisons to Jameer Nelson, which is nothing to shake a stick at. He's more than likely NBA ready right out of college. He's strong. He's got a great jump shot. He's got the leadership.
Ryan Kelly, PF, Duke, 6-11, Sr.
- Kelly is on of those risky picks heading into draft day because of an injury. Kelly missed 13 games during his senior year due to a foot injury and about two months ago had surgery on that same foot. Kelly is expected to return to 100 percent health and pursue an NBA career. He should be healthy by July, which is perfect timing as the NBA Draft is June 27th. Kelly's biggest game of the year and arguably the best of his Duke career came during the game where he returned to action after his 13 game absence.
Ryan dropped 36 points
on then #5 ranked Miami Hurricanes, including making 7 three-point shots out of 9 attempts. Kelly finished at 71% from the field that game. Kelly is an interesting draft prospect because he has the height to be a power forward but has a sweet little jumper to play at the small forward position. And, as I said about Tony Mitchell in Round 1, the Bucks could look in the Round 2 for their man to compliment Sanders and Henson.
Deshaun Thomas, SF, Ohio State, 6-7, Jr.
- The kid knows how to shoot. The kid knows how to rebound. The kid knows how to dish the rock. If you watched any Big Ten basketball this year, I'm sure you've seen multiple highlights of Deshaun Thomas. Thomas scored double digits in every single game this year. He averaged 19.8 points per game, almost 6 rebounds a game and 1.3 assists. One thing that he corrected from the 2011/2012 season to the 2012/2013 season is his free throws. He went from shooting 74% in 2011 to 83% in 2012. In doing so, that really helped him improve his game. He's about the standard size for what an NBA team would be looking for in a small forward. Thomas could serve as a great 6th man off the bench to start of his NBA career and eventually move into the starting lineup. Regardless of where and when he plays, he's going to be a force to be reckoned with in the NBA.
Nate Wolters, G, South Dakota State, 6-4, Sr.
- Look out for Nate Wolters, folks. Another guard that is going to turn heads in the NBA but is so underrated right now he's not getting the attention he deserves. Wolters can run both point and shooting guard. He averaged 22.3 points per game, 5.6 rebounds and 5.8 assists in his senior year. He shot an impressive 48.5% from the field last year. Wolters had one of the best performances of all college basketball players last year. In a game against a college that has the longest name in the history of the earth,
Nate Wolters dropped 53 points
on Indiana University/Purdue University Fort Wayne Mastodons. He shot an incredible 60% (17-28) from the field while going 9 for 14 from behind the arc and making 10 out of 11 free throws. Nate came close to a few triple doubles this year but missed them by a rebound or assist or two. Nate has some rising stock, but not enough to be a Round 1 draft pick. Furthermore, he will lkely be available when the Bucks have to make their second pick.
Second Round Sleeper Pick: Vander Blue, SG, Marquette, 6-4, Jr.
- Because, why not? Right? Blue really developed into a star player this past season. He averaged nearly 15 points per game and made just over 45% of his shots. It came as a surprise to many that Vander announced he would skip his senior year at Marquette and enter the NBA draft. Whether you believe it or not, drafting Blue could be a wise choice by the Bucks. He's a home town kid. He's familiar with the home court of the Bradley Center. He has improvements to make in his game such as ball control, free throws, and selecting better 3-point shooting opportunities. He's raw talent, and can develop into a formidable player in the NBA.
You can watch full coverage of the NBA Draft on ESPN on Thursday, June 27th. Follow the Twitter feed (
@WISportsBlog
) for up to the minute details and rumors days before and the day of the Draft for the Milwaukee Bucks. Hope you enjoyed these two installments. With my luck, they will trade both picks away and not draft anyone and these two articles will be for naught.
Until next time, Beers, Brats, and Championships.

- Andrew Vrchota (@AndrewVrchota)
Follow us on Twitter for up to date news on Brewers, Packers, Badgers, Bucks and more. Live in game commentary, breaking news, previews, and post game discussion. @WISportsBlog @AndrewVrchota, @JoeP_Norton, @SMahon2Go

,

@Mik3_Schu,
@jheldred, @olewr

7, and
@Stevie2Westside

. Finally, find us on Instagram! (wisportsblog)