From 2010-2012, Aaron Rodgers has submitted three of the best seasons by any NFL QB ever to put on a helmet. Rodgers' average passer rating for those seasons is 107.8, which is slightly higher than his NFL leading career average of 104.9. Passer rating is not the end of quarterback judgment (Chad Pennington has a higher career passer rating than Brett Favre for example) but it does provide a consistent snapshot of performance. Additionally, the Packers have had a different leading receiver in each of the past three seasons 2010 – Greg Jennings, 2011 – Jordy Nelson and 2012 – Randall Cobb. While not unusual, three leading receivers in three years does show off Rodgers' ability to take the favorable match-ups and not focus on one playmaker. However, the aerial attack is dependent on having a consistent group of receivers available each game who are on the same page as Rodgers reading defenses and running timing routes. Beginning in 2010, Rodgers has had to go through several different stretches in which integral parts of his receiving corps missed games and/or played through injuries. Each time, Rodgers eventually found a grove and got back on track but needed some time to adjust.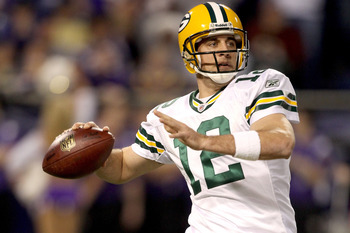 2010 – Without struggle, there is no progress
When Jermichael Finley emerged at the tail end of the 2009 season, including a breakout game against Arizona in the playoffs in 2009, Mike McCarthy spent the offseason gearing the offense around Finley's ability to create mismatches in the middle of opposing defenses. The new attack worked reasonably well for the first four game of the season. Rodgers averaged a passer rating of 96.8 and totaled 8 TDs against 5 interceptions. In week 5 against the Washington Redskins, Finley when down early in the game with a meniscus tear and ended up missing the rest of the season. Over the course of the next four games Rodgers passer rating dipped to 76.2 and threw 4 TD and 4 INT, YIKES! After that dismal stretch though Rodgers adjusted and went on to submit one of the more incredible runs in recent memory to the tune of a 117.8 passer rating, 26 TDs and 4 INT over 11 games leading the Packers to the Super Bowl 45 Championship.
2011 – The KING
Picking up where he left off in 2010, and now with a fully healthy receiving corps Rodgers had 37 TDs, a 125.2 passer rating and only 5 INT through the first 12 games of the season. Starting in week 12 however, Greg Jennings was hobbled by a knee injury and ended up missing the last three weeks of the regular season. During Jennings' absence, Rodgers struggled in a loss at Kansas City posting his worst passer rating of the season at 80.1 with only 1 TD. Needing only one week to adjust, Rodgers scorched the Bears for 5 TDs and a 142.7 rating the following game. When Jennings returned in the playoffs in the division round against the Giants, the offense was back out of sync and Rodgers tallied only a 78.5 rating leading to a loss and massive disappointment for what had been an otherwise fantastic season.
2012 – Reign on the Top
The offense was seemingly out of sorts all year juggling different players in and out of the lineup. Second year player Randall Cobb gained a more prominent role in the offense, including lining up in the backfield and taking hand-offs. However in week 2 against the Bears, Cobb took a hard hit to the shoulder on an inside run and appeared to get a stinger. After that scare, McCarthy was reluctant to go back to running Cobb between the tackles and shied away from that formation. Greg Jennings and Jordy Nelson were both in about out of the lineup during parts of the season, Jennings for an extended period and Nelson in and out of the lineup for 5 different games. Rodgers' efficiency again fluctuated with the consistency of his receivers. Cycling between 100+ ratings (weeks 4-7 and 15-17) when he'd had time to prepare, on the flip side his rating dipped below 90 (weeks 2-3 and 12-14) when injuries affected which receivers lined up each game.
The Verdict
The heart of the McCarthy and Rodgers offensive attack has been identifying favorable match-ups, then relying on Rodgers' pinpoint accuracy and timing with the receivers. It should not come as a surprise that an offense predicated on recognition and timing bogs down when main components are in and out of the lineup. Interestingly enough, Rodgers' output does not seem contingent on one player, as evident by slumps (might not even be considered slumps for nearly any other NFL QB) when any one of his top targets leaves a game or misses time with injury. Rather, Rodgers has shown the ability to readjust his attack once he has a week or two of practice and game planning with a consistent group of receivers.
On one hand it seems too simplistic to boil down Rodgers' success to injuries. Injuries are part of the game after all and the Packers have had their fair share over the past few seasons while still making the playoffs. But certainly keeping a consistent group of core receivers on the field every week will go a long way toward defining the success Rodgers and the Packers have this season. A more reliable defense and the threat of run game would also help, but that is a story for another day.
Until next time, Beer, Brats, and Championships.
- Neal Olson (@olewr7)
Follow us on Twitter (@WISportsBlog) for up to date news on the Brewers, Packers, Badgers, Bucks, and Golden Eagles. We feature live, in-game commentary, breaking news, previews and post game discussions. Follow the entire Wisconsin Sports Blog writing team on Twitter: @AndrewVrchota, @jheldred, @JoeP_Norton, @SMahon2Go, @olewr7, @Stevie2Westside, @TABrown23, and @10iskristin.